New Times
Local alternative weekly from Phoenix, Arizona. Founded in 1970 by a group of students at Arizona State University. Still published as
Phoenix New Times
. (
wikipedia
)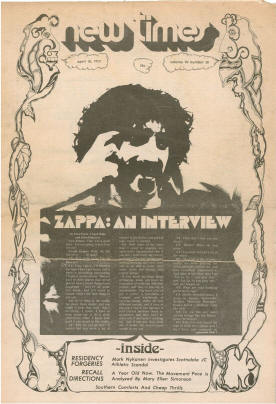 1973 April 18
Vol. 4 No. 28
Zappa: An Interview
By Dan Foote, Chuck Bufe, John Ridgway, pp 1, 2, 12
---
New Times: That was a good show. Are they going to put it on record?
Frank Zappa: Well we did record it … in quad.
NT: Is it going to be Live in Phoenix?
FZ: I don't know; I'll listen to the tape when I get home and if there is something astonishing I'll put it on the album. There's a lot of other places that we've played where weird things have happened – they're all good, you know and it's hard to choose what's the best things to put out.
But we've been in the studio for about three weeks and you ought to hear that stuff; that's terrifying. I mean, I hate to even come out to do a show sometimes when I know how good it can sound in the studio.
NT: Why do you go live? It seems like you have a lot of control in the studio and part of your music is control.
FZ: Well, some of the ideas that I want to express are sufficiently complicated that if you don't spell them out exactly in terms of the way the instruments are balanced against each other and so on and so forth; then some times the wrong idea comes across.
If you know anything about arranging, when you have instruments of radically different timbre and they're playing in an ensemble. You know you got a violin, a trombone, a trumpet and woodwinds of varying things; that's all four different sounds and if they're playing a chord the balance is real critical between those instruments, and they can't always tell if anybody's sticking out. And if one guy does stick out, it makes the chord sound wrong to my ear. (read more)
Source: slime.oofytv.set