Népszabadság
Népszabadság (Liberty of the people) was a major Hungarian newspaper. Its predecessor, Szabad Nép, was founded in 1944. In 1956, the name was changed to Népszabadság. During the communist era the newspaper was the official press organ. After the collapse of the communist regime, Népszabadság was privatised and still had the largest circulation until 2002. The newspaper ceased publication in 2016.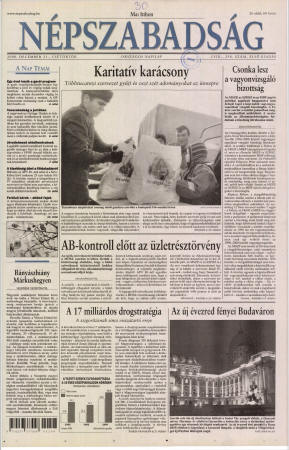 2000 December 21
Vol. 58 No. 298
Frank Zappa hatvan éve (Sixty years of Frank Zappa)
By Béla Szilárd Jávorszky, p 9
---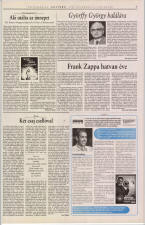 Source: adt.arcanum.com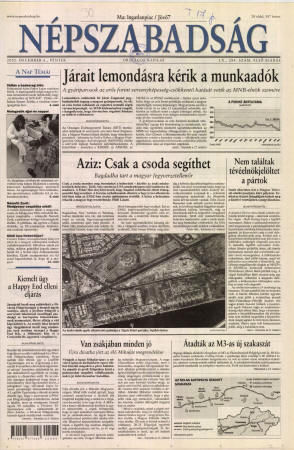 2002 December 6
Vol. 60 No. 284
Zappa-Mikulás (Zappa Santa Claus)
By Béla Szilárd Jávorszky, p 15
---
The article is about Magyar Frank Zappa Egyesület (Hungarian Frank Zappa association), which was founded recently, in November 2002. From then on, this association operated until the beginning of 2012. Their site zappa.hu was closed in 2012. All that remains is their Facebook page.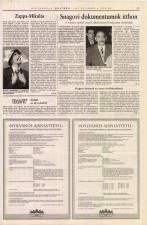 Source: adt.arcanum.com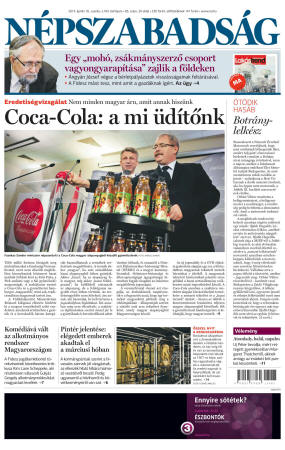 2013 April 10
Vol. 71 No. 83
Mindenkire passzol (It suits everyone)
By István Zoltán Csider, p 14
---
Band of the former Frank Zappa's band members, The Grandmothers of Invention, played in Budapest.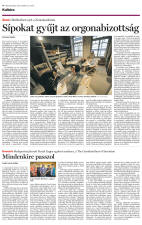 Source: adt.arcanum.com