Muziq
Muziq
was founded in 2004 by Frédéric Goaty, editorial director of
Jazz Magazine
. Ceased in 2009, last issue was # 21.
After 4 year hiatus second incarnation of
Muziq
started again in May 2013. This time as a bookzine – half book, half magazine. The issue numbering started also from 1 again.
Muziq
is issued only 1-2 times a year.
The parent company
Jazz Magazine
is quarterly issuing special editions ("hors série"), which mostly have
Muziq
logo too.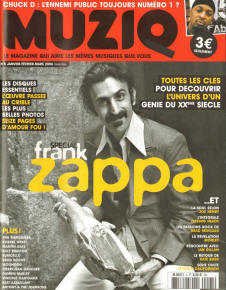 2006 January-February-March
No. 5
Dossier Zappa
By Noadya Arnoux, Guy Darol, Christophe Delbrouk, Julien Ferté, Pierrejean Gaucher, Frédéric Goaty, Ersin Leibowitch, Giuseppe Pino, Christian Rose, pp 28-43
including:
Un Musique Démontée et Remontée
By Pierrejean Gaucher, p 30
Vous n'êtes pas Serieux?
By Guy Darol, pp 34-35
Pâte à Modeler & Délires Cocaïnés
By Julien Ferté, p 37

Canal Zappé!
By Julien Ferté, p 6

Zappa Fury
By Guy Darol, p 64

No. 1
Frank Zappa et ses sourciers
By Guy Darol, pp 142-155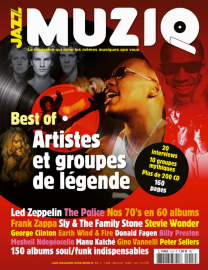 Jazz Magazine Hors-Série No. 13 - Best of artistes et groupes de légende