Music Week
Music Week
is a trade paper for the UK record industry. It was founded in 1959 as
Record Retailer,
relaunched in 1972 as
Music Week
. Since April 1991,
Music Week
has incorporated
Record Mirror
, initially as a 4 or 8-page chart supplement, later as a dance supplement of articles, reviews and charts. ISSN 0265-1548 (
wikipedia
)
By the end of 2020
Music Week
ceased to be a weekly title.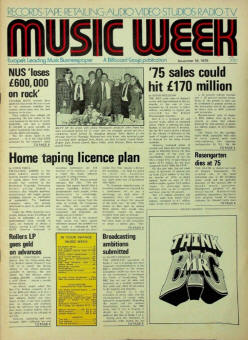 1975 November 15
Beefheart LP frozen
By ?, page 2
---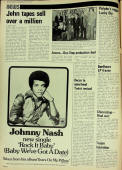 VIRGIN IS continuing to take out injunctions to prevent the further release of copies of the Frank Zappa/Captain Beefheart album Bongo Fury. Beefheart has a recording contract with Virgin but the new album is on Zappa's label, DiscReet which is distributed by Warner Brothers. Warner Brothers have been importing copies of the album from the U.S. and several thousand have already been sent out to shops. However, further issues will not be available until the dispute is settled. A High Court hearing is due to take place in due course. Richard Branson told Music Week that Virgin had no objection to Beefheart touring with Zappa and would not have objected to the album providing the company had been advised of its imminence.
Source: worldradiohistory.com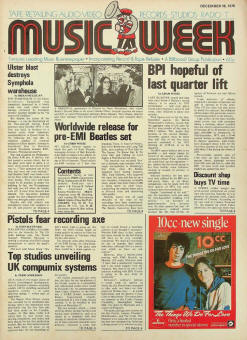 1976 December 18
Frank Zappa "Zoot Allures"
By ?, page 36
---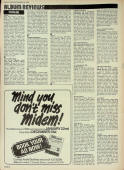 FRANK ZAPPA
Zoot Allures (Warner Brothers K 56298). Producer: Frank Zappa.
Always a man of eclectic talent and bizarre ideas, Frank Zappa that is. As usual the maestro has coached a fine studio band into getting his characteristically gritty and raunchy sound while Frank cuts loose with more of his winding, sinuous guitar lines than has been his wont of late. Fans of his more outrageous material will enjoy Zappa intoning the sordid description of a torture cell and its going on complete with anguished female moans on The Torture Never Stops. Zoot Allures will not lose Zappa and fans.
***
Source: worldradiohistory.com

1977 November 12
---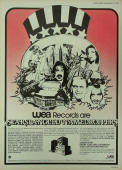 WEA Records full page ad on page 13. This ad appears in several Music Week issues.
Source: worldradiohistory.com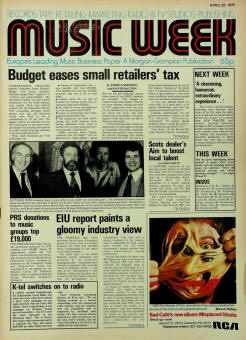 1978 April 22
Frank Zappa "Zappa In New York"
By ?, page 57
---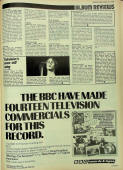 FRANK ZAPPA
Zappa In New York. Elektra K 69204. Producer: Artist.
Long-awaited live double album from this unique artist. Not a collection of his best loved material but contains some of his most outrageous comic numbers like Titties and Beer and The Illinois Enema Bandit mixed with some lengthy and complex instrumentals. Side four is devoted to the 18 minute instrumental The Purple Lagoon on to which Zappa has overdubbed his own classy guitar solo since the album was recorded live at Christmas 1976. Will be a must for all Zappa fans and bound to be a big seller.
⭗

Source: worldradiohistory.com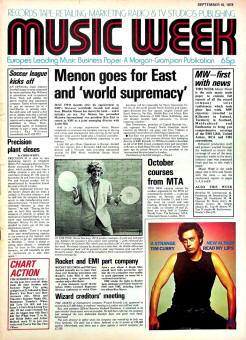 1978 September 16
Knebworth
By David Dalton, page 50
---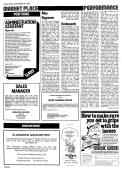 ... On came Frank Zappa with, as we have come to expect, a new band, original material but still the same sardonic wit. As ever the band was well rehearsed, each member coming in with his scheduled shriek, yell or more ordinary harmony right on cue, creating an impression of synchronised mayhem. Opening with Dancing Fool and running one song into another the material was unfamiliar but nevertheless impressive. Zappa himself rationed the guitar solos but they were worth waiting for. He had played about a dozen numbers before coming to something recognised which was a long medley of songs from the WEA album Apostrophe. His last album from WEA is Zappa Live In New York. ...
Source: worldradiohistory.com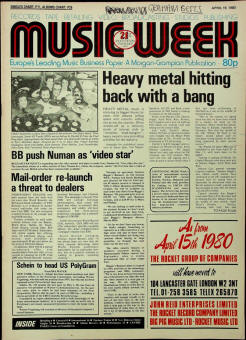 1980 April 19
CBS's Klinteberg optimistic
By ?, page 8 Supplement

Norway welcomes a more sophisticated soul sound
By ?, p 14 Supplement

---
[1] ... An example of single success in provided by Frank Zappa, whose Bobby Brown sold more than 60,000 copies which is a healthy figure for Sweden. "It was the single of the year in Sweden and the best single ever for us," says af Klinteberg. "Altogether Frank Zappa has sold more than 350,000 units in Scandinavia. ...
[2] ... ELO's Discovery was the album of 1979, while in a poll Frank Zappa was voted top artist. Zappa has made an impact throughout Scandinavia, but it has been greatest of all in Norway, with his single Bobby Brown at Number One in the
chart for three months.
"A lot of people went for the melody rather than the lyrics which are difficult to understand," says Jenssen. "I believe we are the only country in Europe to bring Zappa up to Number One and a lot of credit must go to our A&R, press and promotion departments." ...
Source: worldradiohistory.com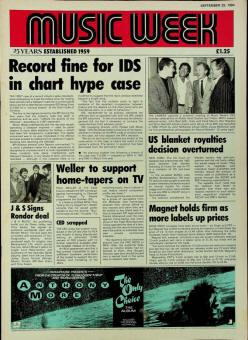 1984 September 29
Zappa signs to EMI
By ?, page 3
---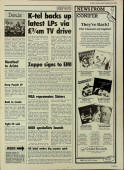 FRANK ZAPPA has signed to EMI Records and will be releasing two new albums to co-incide with his current UK live dates which include three nights at the Hammersmith Odeon. A double-album, Them Or Us, features material written by the rock eccentric's family while the second, Boulez Conducts Zappa, continues the artist's involvement with the classical music world. Both are scheduled for mid-October release but a single, Baby Take Your Teeth Out, has just been released from Them Or Us. Zappa's 10-year-old son Ahmet co-wrote Frogs With Dirty Little Lips and 14-yearold Dweezil contributed two guitar solos, while his daughter Moon sang vocals on another album track Ya Hozna.
Boulez Conducts Zappa feature seven dance pieces commissioned by conductor and avant-garde composer Pierre Boulez. Following the first performance of three of them in Paris earlier this year under the direction of Boulez, the French conductor recorded them with his new music group Ensemble Intercontemporain and added four more recorded in California with The Barking Pumpkin Digital Gratification Consort.
Source: worldradiohistory.com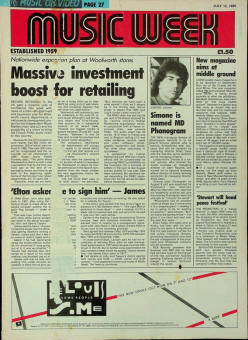 Satire is the Mother of Invention
By Duncan Holland, page 22
---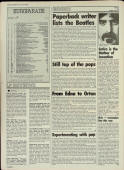 BEING TOTALLY unable to listen to more than one side of Zappa's latest triple LP, Thing Fish and then happily reading through Michael Gray's diary of his life, one forms the strong impression that Uncle Frank is a far more interesting man than musician.
Mother! Is The Story of Frank Zappa is meticuluous, considered and crafted. Gray knows what he's talking about and has clearly had close association with his subject throughout the years. Although writing as a fan and again falling into the trap of he-is-a-genius ... period. Gray does indicate what is so attractive about Zappa: a sardonic outsider chipping away at the fringes of the American way of life.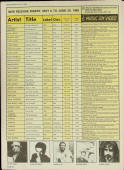 Of course, Zappa is frequently grotesque, his ideas and music hideous, but Mother ... leads one to suspect it is his audiences, own limitations which have forced him to produce something as appallingly ugly and vile as Thing Fish. As Zappa says; "Producing satire is kind of hopeless because of the literacy rate of the American public."
This sort of arrogance is always a good read, especially when spiced up with a cynical intellect. The music is superfluous now, but the man is still worthy of consideration, with Mother ... serving as a fine account of a fascinating enigma.
Mother! Is The Story Of Frank Zappa by Michael Gray, Proteus Books, £5.95.
Source: worldradiohistory.com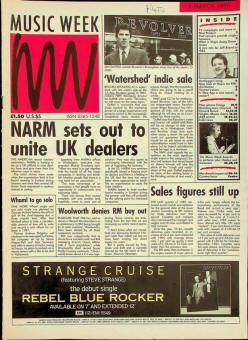 Zappa albums for EMI reissue
By ?, page 3
---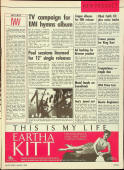 EMI RECORDS is co-releasing several albums by Frank Zappa as part of a campaign, Zappa — The Collection, which will include press advertising and in-store posters. All the albums in the promotion have been digitally re-mastered by Zappa himself and are available on LP and XDR cassette. First five titles available are Sheik Yerbouti, Tinsel Town Rebellion, You Are What You Is, Ship Arriving Too Late To Save A Drowning Witch and The Man From Utopia, and there is also a new Zappa album, Frank Zappa Meets The Mothers Of Prevention.
Source: worldradiohistory.com