Mundo Musical
Rock magazine (Music World) from Valencia, established in 1968.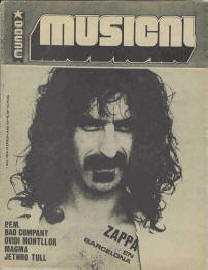 1974 October 1
Vol. 7 No. 34
Zappa y sus madres en Barcelona
By Pepe Morera, pp 3,4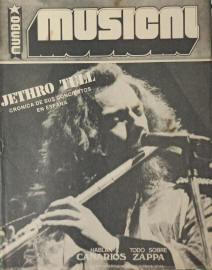 1974 November 1
Vol. 7 No. 35
Zappa: Mordaz e inteligente (Zappa: scathing and intelligent)
By Jaine Martín, p 20

Un concerto de formas inconcretas e "irregulares"
(A concert of imprecise and "irregular" shapes)
By Jaine Martín, p 21

A proposito de la actuacion de Frank Zappa en Badalona
(Regarding the performance of Frank Zappa in Badalona)
By Gaspar Fraga, p 22
---
FZ at the press conference held at the Manila Hotel in Barcelona, prior to the concert in Badalona; comments on the concert itself by Jaime Martín and post reflection by Gaspar Fraga who is also the author of the photos and author of Zappa & Madres.
Source: Javier Marcote