Modern Recording & Music
Very hip and now defunct audiophile magazine. Started as Modern Recording (ISSN 0361-0004) in Oct/Nov 1975. Continued by Modern Recording & Music (ISSN 0273-8511), which began with vol.5 no. 10, July 1980. Last issue was in February 1986.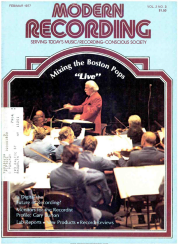 1977 February/March
Vol. 2 No. 3
Frank Zappa: Zoot Allures
By Russell Shaw, p 93
---
It is good to hear Mr. Zappa playing music again. Not that there hasn't been and will always be a market for Frank's gauche barbs on society's foibles, but those efforts which accentuated his satirical wit rather than his considerable musical virtuosity left one with the inescapable feeling that the performer was goofing off. (read more)

Source: americanradiohistory.com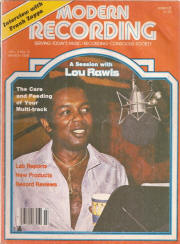 Vol. 3 No. 6
Artists' Profile: Frank Zappa
Interview by Joseph Laux, pp 46-48, 50, 52
---
MR: Since we know you and Paul Buff worked together for a while in the old days, would you tell us about this relationship?
FZ: I met Paul when he had a studio in Cucamonga, California. The equipment was very basic, most of it was homemade. He had learned his electronic skills in the Marine Corps and he came out here to decide if he wanted to go into the record business. He taught himself how to play sax, piano, bass, guitar and drums. He also taught himself how to sing, and built the studio so he could record himself, or any of the local bands who were in town at that time. He only charged about $30 per hour. Two surfin' hits, "Pipeline" and "Why About," were recorded there and the master was released to either Dot or to another record company. (read more)
Source: slime.oofytv.set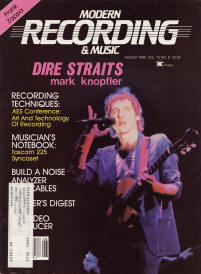 Vol. 10 No. 8
Orchestral Maneuvers
Interview by Bill Milkowski, pp 26-31
---
MR&M: This project has gone through a lot of sidetracks along the way. You mentioned that at various times it was going to be done with the Krakow Symphony Orchestra, then the Mexico City Symphony, then Syracuse. How did you end up with the London Symphony Orchestra?
FZ: Well, as soon as we got this extortionary message from the Syracuse Orchestra we decided to try to contact a British orchestra. First we called the BBC Orchestra but they were booked solid for the next five years. Then we called the LSO and they said, "Well, we don't know whether we can do it because we're just finishing off a film score and the musicians have one week off before they have to do another film score." And since they get to vote on everything they want to do, they put it to the orchestra and the orchestra members chose to record my stuff rather than take a vacation. They went directly from Return Of The Jedi to my stuff to another film. We had just a certain number of days to do the whole thing, and they were rehearsing their butts off. We had 30 hours of rehearsal for one concert and three days to record. (read more)