Life
During the magazine's heyday roughly from its launch (1936) until the early 1960s
Life
was the most influential and popular magazine in America, with tens of millions of subscribers and readers.
Life
was published weekly until dwindling circulations for magazines as a whole, coupled with rising advertising rates, caused the magazine to print its final weekly issue in December 1972. From there,
Life
was published quarterly from 1974 to 1978, and was restarted as a monthly magazine in October, 1978. Monthly publication ceased in 2000. (
wikipedia
)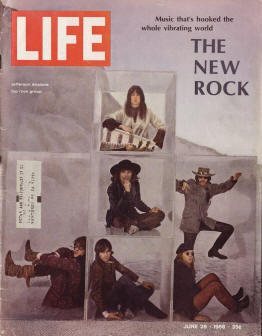 Vol. 64 No. 26
A Special Section On The New Rock

The Most Popular Music
(Big Brother And The Holding Company, Jefferson Airplane, Mothers Of Invention, Doors, Cream, Who, Country Joe And The Fish)
Photographed by Art Kane
Text by Robin Richmann, pp 51-64

The Oracle Has It All Psyched Out
By Frank Zappa, pp 82-86, 88, 91
---
THE NEW ROCK
Rock music is a necessary element of contemporary society. It is functional. It is healthy and valid artistically. It is also Educational (how to ask a girl for a date, what love is like). It has all the answers to what your mother and father won't tell you. It is also a big business. This is a brief history of rock and its relationship to our society.
LO: PFF PFF. A nifty questionnaire to get you interested so you'll read the rest of the article: (read more)
This essay by Frank Zappa was reprinted several times. Well-known is reprint by Bizarre Records as 6-page promotional foldout. The essay was also included into anthology America and Its Discontents (1971).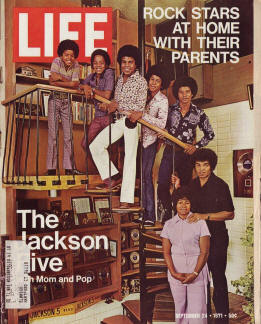 1971 September 24
Vol. 71 No. 13
The Rock Family Affair
(Frank Zappa, Elton John, Eric Clapton, The Jackson Five, Ginger Baker, Joe Cocker, Grace Slick, David Crosby, Richie Havens) Photographed by John Olson, pp 46-55
---
Frank Zappa, 31, leader of the Mothers of Invention, likes to call himself a "creep," and says his upbringing made him that way. "I always felt my parents had a boring life," he explains. "They spent most of it watching TV. I wanted to entertain myself, so I steered myself in the other direction." As a consequence, between ages 18 and 21 Frank was alternately kicked out of the house and kept in "protective custody," as he puts it. "My father was afraid the neighbors would see me, but afraid if I moved out I might do something worse."
Francis Zappa worked hard as a college history teacher, a government meteorologist and a mathematician to secure his family's place in the middle class. He is now retired and seems eager to identify with his son's success. When asked to be photographed with Frank, the senior Zappas chose his Los Angeles living room instead of their own. "I played guitar," his father explains, "and I think that inclined Frank to music. I had hoped he would follow something like what I had done, but later I realized that this was not his bag."
"My father has ambitions to be an actor," Frank confides. "He secretly wants to be on TV."
Mrs. Rosemarie Zappa has an offhand approach to her famous son. "The thing that makes me mad about Frank," she says, "is that his hair is curlier than mine – and blacker."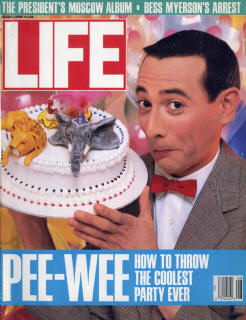 Vol. 11 No. 9
The Zappa Zoo
By Jennifer Ash, pp 73-74, 76
---
Dubbed the Rasputin of rock, Zappa is still, at 47, known for his raunchy rapid-fire lyrics and public antics. He has written more than 300 songs on subjects ranging from Jewish princesses to yellow snow to penguins in bondage. Now he's taking on — in all seriousness — the task of getting young people to register so they can vote. In the last presidential election only 15 percent of eligible voters between 18 and 24 cast ballots. (The national average was 53.3 percent.) "The United States," Zappa says, "is the least registered industrial nation on earth." He believes that "if they don't express their wishes, they really don't have a right to complain." (read more)
Source: Charles Ulrich