Jazziz
JAZZIZ
is a music magazine that covers jazz. It was founded in 1983 by Michael and Lori Fagien. It has remained small and independent. (
wikipedia@pedia
)
The magazine was named after John Serry's second LP
Jazziz
(1980).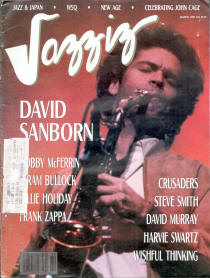 Vol. 1 No. 3
Zappa
By Charles Little, p 22
---
FRANK ZAPPA IS ONE OF THE most independent musicians alive. Thrashed by some critics and prudish listeners for his sardonic lyrics, he has nonetheless acquired an enormous audience that recognizes his humor, his unique guitar style and his compositions that straddle the genius/insane interface. Remaining a categorical enigma, Zappa has attained living legend status while staying out of the spotlight and recording music that suits him on his own Barking Pumpkin label (now available on CD from Rykodisc). Forever unpredictable, Zappa occasionally permits his jazzier side to surface, playing on others' recordings under an alias. Possibly to spite jazz's growing audience, Frank Zappa presents Jazz From Hell.
Shut Up 'N' Play Yer Guitar was an earlier Zappa effort to present his strictly instrumental side to the listening public. Released a few years ago, this three record set had some shining sections but was dimmed by the profusion of jammed-out instrumental run-ons. His "no vocals" approach took a turn towards mainstream with London Symphony Orchestra which coupled his sense of soft symphonic avant sound with his unconventional timing, texture and instrumental wit.
Jazz From Hell is Zappa in a high tech mode. Incorporating up to the minute technology with ideas introduced in his previous works, Zappa presents his bizarre arrangements in typically unorthodox fashion. With its rhythmic base that hints at minimalist repetitiveness, Jazz From Hell contains hypnotic, spinning musical excursions that climb with odd transfigurations and time changes. Combining elements of Steve Reich, Edgar Varèse, Milton Babbitt, The Art of Noise, Steps Ahead and a library of video arcade jam-master sound effects, Zappa shuns clichés and steers his quirky amalgam into territory that his audience will clearly recognize as prime Zappadom.