JazzTimes
JazzTimes
is an American magazine devoted to jazz. Published 10 times a year, it was founded in Washington, D.C. in 1970 by Ira Davidson Sabin (born 1928) as a newsletter called
Radio Free Jazz
. Name changed to
JazzTimes
in 1980. (
wikipedia
)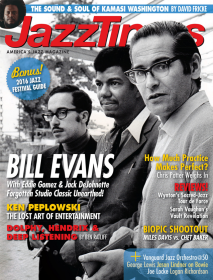 Vol. 46 No. 4
The Ed Palermo Big Band
One Child Left Behind
By Jeff Tamarkin, pp 68-69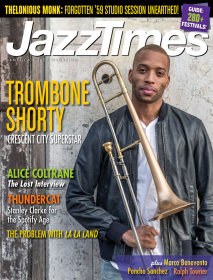 Vol. 47 No. 4
Ed Palermo
The Gil Evans of Prog-Rock
By Mac Randall, pp 34-35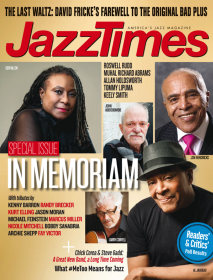 Vol. 48 No. 2
The Ed Palermo Big Band
The Adventures Of Zodd Zundgren
By Michael J. West, pp 60-61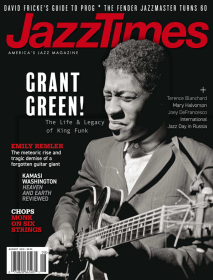 2018 July/August
Vol. 48 No. 6
Loud Jazz
David Fricke's guide to the intersection of postbop, fusion and progressive rock
By Evan Haga, pp 36-37
---


Article contains the following section:
The Mothers (Frank Zappa)
The Grand Wazoo (Bizarre/Reprise, 1972)
Zappa and jazz were tight from the start: A photo of pianist Les McCann appears in the gatefold art of Freak Out!, Zappa's 1966 debut with the Mothers of Invention; drummer Shelly Manne plays on the 1967 oratorio Lumpy Gravy; a track on 1970's Weasels Ripped My Flesh is named ater Eric Dolphy. With The Grand Wazoo, Zappa concluded his early '70s spell in jazz-rock, combining the pure-soloing focus of 1969's Hot Rats and the big-band armament on 1972's Waka/Jawaka in muscular, inventive charts touting a luid, funky exuberance. A 2007 archival release, the two-CD Wazoo, documents Zappa's 20-piece juggernaut on its only tour, at a Boston gig in September 1972. Fortunately, for fans and posterity, the maestro taped everything.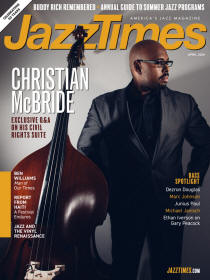 Vol. 50 No. 3
The Father of Invention
The Hot Rats Sessions
By Jim Macnie, p 58