In Touch Weekly
In Touch Weekly is an American celebrity gossip magazine.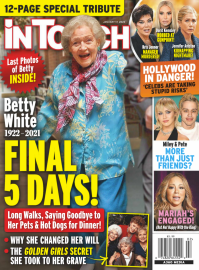 2022 January 17
Vol. 21 Issue 2
Lady Gaga's Rock 'n' Roll Palace
p 5
---


"The house is very special and magical," Lady Gaga once said of moving into rocker Frank Zappa's longtime Hollywood Hills home, which boasts two recording studios that "sound incredible." The Tudor-style mansion also features a two-story art gallery, windows salvaged from submarines, a greenhouse, a rooftop tennis court and a pool. But after recording 2020 Chromatica here, the singer, 35, sold it to another member of music royalty: Mick Jagger's daughter, Lizzy!