Humo
Weekly radio and television magazine. Started in 1936 as
Humoradio
. In 1957 renamed to
Humo
. (
wikipedia
)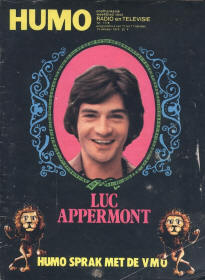 1974 October 10
No. 1779
En Humo sprak met Zappa
By Marc Didden & Guy Mortier, pp 162-165
---
Google translate: Frank Zappa and the umpteenth reprint of the Mothers of Invention came to Brussels for the third time one Sunday or two ago. With success: Zappa himself and the Mothers (Ruth Underwood, Bruce and Tom Fowler, Chester Thompson, George Duke and the phenomenal newcomer Napoleon Brock) had a great day. Long and good music was played, the performance was never limp, there was something to hear and a lot to see. If you could see. The organization agency Gemco had tricked both the 220 F paying public and the Mothers by doing also! Zap and the Mothers wouldn't be good enough to fill one of Brussels' bigger venues. There will probably be excuses why it couldn't be done in a larger hall, but we don't want to hear them (waddling in our ears, indeed). Anyone who puts down more than 200 plasters is entitled to a decent place, to the necessary cubic centimeters of air and a minimum amount of room to move. And Zappa thinks so too. Because we asked him, He said: "I think so too." And a lot more of course. (read more)
Source: Ton van Mierle

1977 February 10
Zappa in zoeloeland
By Kamagurka & Frank Zappa, p 115
---

Belgian artist and Frank Zappa fan Kamagurka met Zappa backstage on February 5th, when Zappa had concert in Amsterdam. He showed him comic strip with empty text balloons and asked Zappa to fill them in. Zappa did it and this comic strip was published five days later.
For conceptual continuity references read: Killuglyradio: Kamagurka
Source: Sears Poncho @ zappateers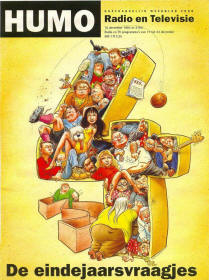 1993 December 16
My epitaph: anything, anytime, any place, for no reason at all
By Humo
---
According to Roy Carr (Frank Zappa and the And) this interview was printed in Humo in December 1993 shortly after Zappa's death. It was translated into English by Jurgen Verfaillie and placed on killuglyradio.com afterwards. Thus, the date of the original publication in Humo may also be 9 or 23 December. We don't have the original scans, only the translation.
Source: killuglyradio.com