Hullabaloo
Hullabaloo
was the precursor to
Circus
magazine. It was published 1966 to 1969, 23 issues in total.

Hullabaloo
launched in 1966 (the decade's pivotal year), and successfully managed to renew itself at the same moment (March 1969) that its predecessor and early competitor
TeenSet
folded in disarray over its own identity. (
BeatBooks
)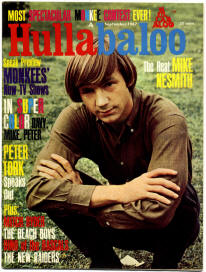 1967 September
Vol. 2 No. 5
The Mothers Of Invention
By ?, p 26
---
All of a sudden, the lights dim and these crazy walking Mothers – these neon-hairy musicians who resemble seven colorful slagheaps in fullest bloom – shamble onto the stage of New York City's Garrick Theatre and blow your mind sky high with their music for Absolutely Free, their first Off-Broadway musical!
An audible gasp goes up from the audience. If raunch were high style, the Mothers (the "of Invention" was tagged on them by their terrified record company, Verve) would be fashionable beyond belief. But if their appearance is Too Much, so is their music. Valid, experimental, and funny, it can send waves of excitement up your spine with its rock Stravinsky or crack you up with its Top Forty satires. Even when freaking out, Zappa can really sing that self-designed Hagstrom guitar of his, and there is something happening here, whether you understand the underground or not, Mr. Jones.
The Mothers are Frank Zappa (lead guitar, composer, arranger, guiding light), Roy Estrada (bass), Billy Mundi (drums), Bunk Gardner (woodwinds), Jimmy Carl Black (drums), Ray Collins (lead vocals, harmonica), and Don Preston (piano, organ). And they are wild!
Source: archive.org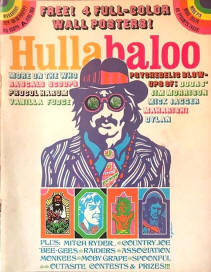 1968 May / June
Vol. 3 No. 4
Live From N.Y. The Others Brothers Show
By Fred Beckmeier, pp 24-25

Records
By Paul Nelson, pp 75-76
---
page 76:
Q.: I liked the MOTHERS OF INVENTION's "WE'RE ONLY IN IT FOR THE MONEY" (Verve).
A.: That's my other favorite wild album.
Q.: You have good taste.
A.: Thank you very much.
Q.: Would you agree that, musically, the MOTHERS are probably the best rock band in the world?
A.: Yes. But I haven't heard all of the rock bands in the world.
Q.: That doesn't matter. Would you agree that FRANK ZAPPA is a genius?
A.: Yes.
Q.: You're a lot smarter than I thought.
A.: Thank you.
Q.: Do you think that the MOTHERS will quote me in the next ad for their record?
A.: I dont know. I hope so.
Source: archive.org