GO Magazine
Newspaper style magazine from 70s.
Publisher and editor Phil Flamm: "When GO Magazine started ... we were an 8 page, tabloid ... a teeny-bopper magazine ... rock music has become more socially oriented and we found it impossible to write about the music without getting into the social implications. However, the fact that we were distributed through radio stations precluded our getting into anything BUT the music ... so we changed GO from a weekly distributed through radio stations to a monthly on sale at newsstands ... " (loufar4 @ eBay)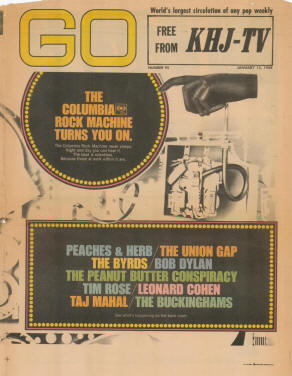 1968 January 12
No. 95
New Mothers' LP Sleeve The Wildest Yet
p 5
---
NEW MOTHERS' LP SLEEVE THE WILDEST YET
The new Mothers of Invention album, called "We're Only In It For The Money," was originally scheduled for pre-Christmas release but will now be released shortly on the Verve label.
The album was delayed because of the original jacket, which was a take-off on the "Sgt. Pepper" album cover. MGM Records, of which Verve is a division, waited until they received permission from the Beatles before going ahead with the picture.
Now, however, the Sgt. Pepper – like photograph the smaller picture on left – will be placed on the inside cover of the double fold album.
The outside cover will now feature a picture of the Mothers that was originally scheduled to be on the inside. This picture is shown above.
The artwork for the album was done by Cal Schenkel and the photography by Jerry Shatzberg.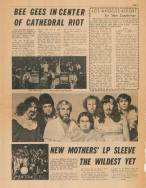 Source: slime.oofytv.set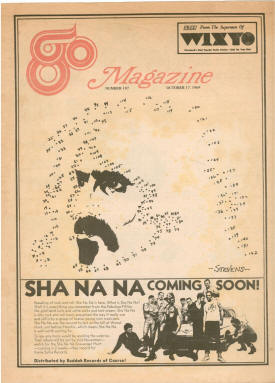 1969 October 17
No. 187
Zappa Interviewed
Interview by Robert Levin, p 5
---
"Our records sold well, but to the limited audiences that already liked us. We couldn't reach the people who needed to hear us. Radio stations wouldn't play us – even 'underground' stations which just play as many blues records as they can. Our stuff, without being listened to, was categorically thrown into the garbage can by radio station programmers. There was no alternative but for us to separately get into other things. I think the members of the group had talent that would have been very difficult to maximize in the Mothers where their talents were ignored by the public. One good thing is that they will now be able to bring what they learned with the Mothers – the skills they learned with the Mothers – to other groups and situations and help spread the word around a little bit. (read more)
Source: slime.oofytv.set