Fabulous 208
Fabulous
was a popular British teen pop magazine published weekly between 1964 and 1980. First published as
Fabulous
on 18 January 1964. In June 1966, after a deal with Radio Luxembourg to carry its programme listings and related items, the magazine was retitled
Fabulous 208
- 208 metres being Radio Luxembourg's broadcast wavelength. In August 1975 the magazine was retitled as
Fab 208
. After a brief spell as rebranded as
Fab Hits
it was published for the last time on 27 September 1980. (
wikipedia
)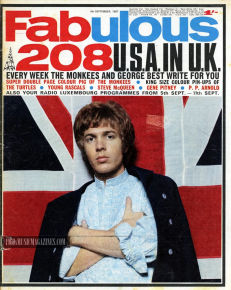 1967 September 9
On Our Wavelength
By June Southworth, p 3
---

I spoke to a Mother of Invention on the phone the other day. At least, I think I did. I'm still trying to believe it wasn't some sort of psychedelic dream. Frank Zappa, who is the head Mother, was in London to suss out the scene for when the whole group comes for its concert at The Royal Albert Hall.
Our conversation, for the most part, consisted of a silky American voice inviting me over to the hotel "so I can blow your mind, baby" and a very firm English voice (mine) saying NO!
On September 23rd, The Mothers – "we are all quite berserk" – expect to unleash on their audience a new idea in audience participation.
"I like to think we pioneered the throwing of inedible vegetables at our audience," said the head Mother.
It is considered very uncool when the audience throws them back.
The Mothers also intend to put an epitaph they found on a convenient tombstone to music to delight their audience. They don't regard money as terribly important, but say the intention of their act is social work. When I was told by Mr. Zappa that their social work is "to motivate young people to take over the governments of the world" I think I lost touch with the conversation. Never got past the vegetables, to tell the truth.
It should be quite a loud concert, even for The Royal Albert Hall. The Mothers consist of Don Preston (first piano); Ian Underwood (second piano); Jim Black (first drums); Bill Mundi (second drums); Frank Zappa (first guitar); Roy Estrada (electric bass); Bunk Gardner (all the woodwind instruments); and a road manager who plays baritone sax if all that isn't enough.
The Mothers of Invention have an album coming out here soon. It's called We're Only In It For The Money.
Source: 1960smusicmagazines.com