Electronic Musician
Monthly magazine containing educational articles on equipment and technique in contemporary electronic music making.
Founded in 1975 as
Polyphony
magazine, renamed to
Electronic Musician
in 1985.
EQ Magazine
was merged into
Electronic Musician
in May 2011.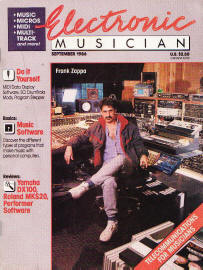 1986 September
Vol. 2 No. 9
Frank Zappa and His Digital Orchestra
Interview by John Diliberto, pp 50-54
---
EM: You've said that when you play the guitar, you like to make it talk. Can you do that with the Synclavier?
FZ: Oh yeah! Sure can. (read more)