El Periódico de Catalunya
Newspaper in two versions – in Catalan (blue nameplate) and Spanish (red nameplate) languages,
founded in Barcelona in 1978. (www.elperiodico.com)
Frank Zappa pega 'palos' a los políticos de EEUU en su gira
Manuel Montero, p 39
(Full text at El 3er Poder)

---
Complementary to the interview in Cambio 16. This one was made a few moments before the concert in Madrid on May 14th, 1988 with an audience of 30000.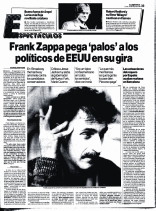 Source: Javier Marcote