The Dig
ザ・ディグ


The Dig
was the
Crossbeat's
special issue. Launched as a quarterly in 1995.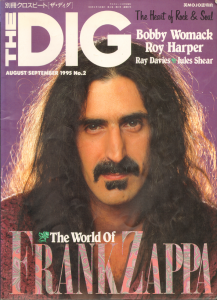 1995 August / September
No. 2
フランク・ザッパ‥壮大なる宇宙 (The World of Frank Zappa)
pp 12-45
14 ジルコン博士の秘密研究所 〉 マイルス (Dr. Zircon's Secret Lab, by Miles / Mojo)
23 フランク・ザッパ最期の会兄記 〉 べン・ワ卜スン (The Last Days Of Frank Zappa, by Ben Watson / Mojo)
28 キリス卜に反逆した男 〉 デイ ヴ・リマ一 (The Antichrist, by Dave Rimmer / Mojo)
31 カル・シエンケルによろジヤケシト解説 〉 マイルス (The Grand Wazoo, interview by Miles / Mojo)
34 奇しき縁: メンバーによろ回想金講 〉 デイヴ・テイマーテイ一ノ (The Addams Family, by Dave Dimartino / Mojo)
38 ザッパのマテリアル・ワールド 〉湯浅 学 / 山名 昇 / 茂木 健 / 大山甲日 / 谷口まもる (Zappa's Material World, by Manabu Yuasa, Yamana Noboru, Ken Mogi, Kohjitsu Ohjama, Mamoru Taniguchi)
42 作品 完 令 リ ス卜 〉 湯浅 学 (Frank Zappa Works, by Manabu Yuasa)
1996 December / 1997 January
No. 10
Captain Beefheart: The Great and Unknown Howl of Captain B
pp 52-73
遠く輝く神話の真相 (They're In Past Tense, The Past Sure Is Tense)
By Dave Dimartino, p 54-60, 62-63
(Original title: Yeah, I'm happy. Happy as a clam)
写真の中のビーフハート (Beefheart in Photographs)
By Anton Corbijn, p 58
(Original title: The Spotlight Kid)
シンプソンズ』創造者、かく語りき (Thus Spoke the Creator of the Simpsons)
By Matt Groening, p 59

Run Paint Run Run
By Kristine McKenna, p 61
(Original text)
数千枚の白紙キャンヴァスの中で (I'm Happy As A Clam)
By Dave DiMartino, pp 64-66
(Original title: Strictly Personal)

Hot Rats Session
By Barry Miles, p 63

The Greatest Night In My Life
By Tom Hibbert, p 66

船長の実像(1) ゲイリー・ルーカスの証言 (The Truth of the Captain (1): Gary Lucas)
By Yamana Noboru (山名昇), p 67

船長の実像(2) アート・トリップIIIの証言 (The Truth of the Captain (2): Art Tripp III)
By Borrvs Ferrick, p 67

16 Discs of Frownland
By Otsuka Shintaro, Nakayama Yoshio, Yamana Noboru, Matsuyama Shinya, Yuasa Manabu, Mogi Takeshi, Wakui Koji, Koyama Tetsuto, Kudo Haruyasu, Yasuda Kenichi (大塚新太郎、中山義雄、山名昇、松山晋也、湯浅学、茂木健、和久井光司、小山哲人、工藤晴康、安田謙一), pp 68-72
アルバム未収録音源をチェック (Non-Album Tracks)
By Koyama Tetsuhito (小山哲人), p 73

映像作品で見るビーフハート (Beefheart In Films & Videos)
By Otsuka Shintaro (大塚新太郎), p 73

96年夏、船長を探して… (Summer '96, In Search Of The Captain...)
By Borrvs Ferrick, p 72
Disc Review: Frank Zappa "Lather"
By Morita Junichi (森田純一), p 93
---
TAN Mitsugu: "Although most of this Captain Beefheart special consists of translations from the 1993 December issue of Mojo, there're some original Japanese articles, including two short interviews with Gary Lucas & Art Tripp, discography & videography, and Borrvs Ferrick's report on his unsuccessful attempt to visit Don's house. Also, you can see a rare promo shot of the Bongo Fury line-up of The Mothers (p 62)."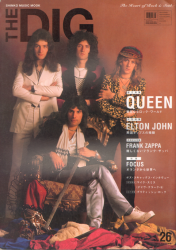 No. 26
Frank Zappa
Ahead Of Our Time
pp 140-159
140 誰よりもアメリカを愛した男 〉松永良平 (A man who loved America more than anyone, by Matsunaga Ryohei
144 1976年1月、ザッパ来襲 〉辻口稔之 (January 1976, The Zappa Attack, by Tsujiguchi Toshiyuki )
146 ルーツ-オブ-ザッパ 〉森田義信 (Roots of Zappa, by Morita Yoshinobu )
149 いじましい、それでいて嬉しい紙ジャケ 〉湯浅 学 (Stingy, But Delightful Miniature LP Sleeves, by Yuasa Manabu)
150 『お一い、ゲイル』???それ誰の声?〉湯浅 学 ("Hey Gail" What? Whose Voice Was It?, by Yuasa Manabu)
151 ORIGINAL ALBUM DISCOGRAPHY 〉 大西祥平 / ェ藤鴻康 / 小山哲人 / 松永良平 / 森田純一 / 山名 昇 / 湯浅 学 (五十音顧) (By Ohnishi Shohei , Kudo Haruyasu, Koyama Tetsuto, Matsunaga Ryohei, Morita Junichi, Yamana Noboru, Yuasa Manabu)
159 没後のリリース状況 〉湯浅 学 (Pothumous releases, by Yuasa Manabu)