Cream
Bob Houston founded
Cream
Magazine in 1971 – a writers' champion, he spanned rock, royalty and robust trade unionism... He was a key architect of
Melody Maker
's golden decade of the 1960s... He was enthusiastic about what was genuinely new in the rock scene, embracing the work of artists such as Frank Zappa...
Cream
and his rival monthly
Let It Rock
were both journalistic successes but commercial failures and folded after a couple of years. (D. Laing,
The Guardian
, October 14, 2005)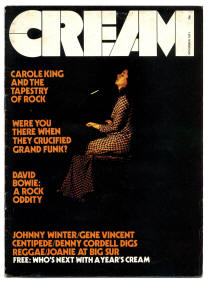 1971 November
Issue 7
---
Mothermania ad on page 7.

Source: beatchapter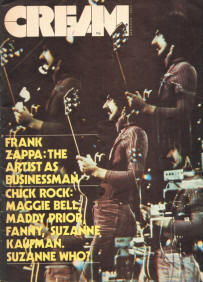 Issue 9
Frank Zappa: Portrait of the Artist as a Businessman
Interview by Rob Partridge & Paul Phillips, pp 16-19, 45
---
THE first thing we want to establish is what the American music industry was like when you first recorded in the mid-sixties. Was it equipped to handle a band like the Mothers of Invention?
In the United States at the time the Mothers began, the top musical figures were the Beatles, Herman and the Hermits, the Byrds, Dave Clark and the Rolling Stones. Apart from the Byrds there wasn't much in the way of American acts. That was the general trend of the music business – nice attractive young lads playing attractive, pleasant, listenable semi-cosmic pop music. Most of the guys in the Mothers of Invention were unattractive old lads and we had an immediate merchandising problem. Consequently the public, because it was orientated to mass attractiveness, found it hard to project into our vibes. (read more)