Cooper Point Journal
The
Cooper Point Journal
is the student newspaper at the Evergreen State College in Olympia, Washington. The newspaper started in 1971 and continues to run as a bi-monthly journal. (
Archives West
)
From 1972 to 1977, Matt Groening attended The Evergreen State College in Olympia, Washington, a liberal arts school that he described as "a hippie college, with no grades or required classes, that drew every weirdo in the Northwest." He served as the editor of the campus newspaper, the
Cooper Point Journal
, for which he also wrote articles and drew cartoons. (
wikipedia
)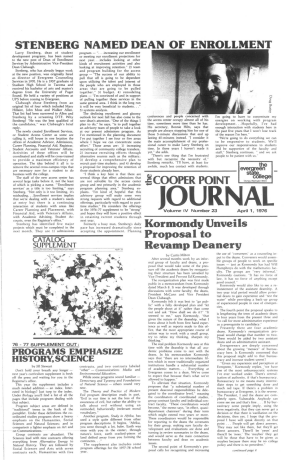 Vol. 4 No. 23
Beefheart and Schenkel Display Bizarre Art
p 4
---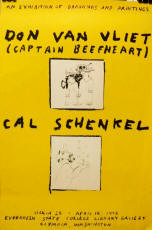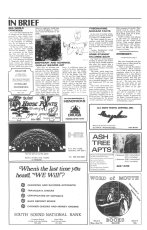 More than 70 drawings and paintings by composer, musician, and poet Don Van Vliet (better known as Captain Beefheart) and graphic artist Cal Schenkel, are on display in the Library Art Gallery until April 16. The works, which range from pencil sketches for animated films to large acrylic paintings, are being shown publicly for the first time.
The exhibit features 22 drawings and six paintings by Van Vliet. Schenkel, who has designed record album covers for Frank Zappa and Captain Beefheart, is exhibiting about 50 works in the show, including the original art for the Zappa albums Uncle Meat, We're Only In It For the Money, One Size Fits All, and The Grand Wazoo.
Posters for the exhibit, which were designed by Cal Schenkel, will be on sale throughout the exhibit, which is free and open to the public. The gallery is open from 8 a.m. to 11 p.m. Monday through Thursday, 8 a.m. to 7 p.m. Friday, 1 to 5 p.m. Saturday, and 1 to 9 p.m. Sunday.
Source: collections.evergreen.edu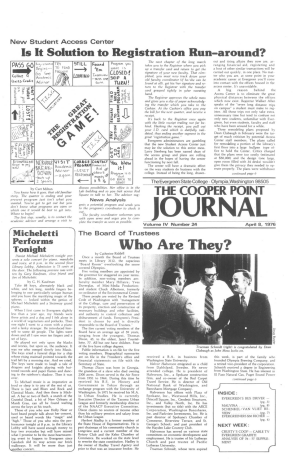 Vol. 4 No. 24
Portrait of the Mutants as Young Artists
By Matthew Groening, p 7
---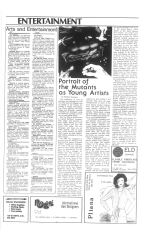 The exhibition of over 70 paintings and drawings by Don Van Vliet and Cal Schenkel now on display in the Library Art Gallery is simply astounding. Van Vliet's playful, free-form images and Schenkel's carefully controlled and developed works are distinctive examples of intuitive art and graphic design. (read more)
Source: collections.evergreen.edu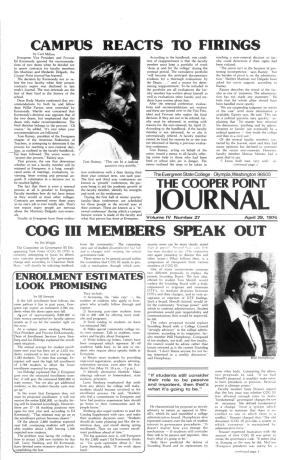 1976 April 29
Vol. 4 No. 24
200 Motels Can Make You Crazy
By Matt Groening, p 7
---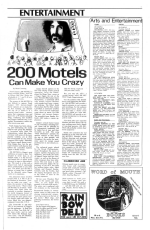 The essence of 200 MOTELS is very difficult to capture. Frank Zappa's 1971 feature-length movie operates on so many levels that isolating any element will not do it justice. It is a musical/visual/comic extravaganza that compresses time and space into a 99-minute pulsating lump, combining real incidents and Zappa's fantasies into a surrealistic documentary unlike any other movie ever seen. (read more)
Source: collections.evergreen.edu