Concert
Philadelphia-based free music and entertainment magazine, probably published only some years.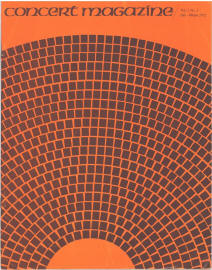 1972 Fall / Winter
Vol. 1 No. 2
Frank Zappa
By T. Osiecki, pp 14-15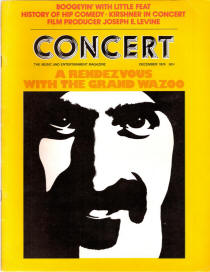 1974 December
Vol. 3 No. 10
A Rendezvous With the Grand Wazoo
Interview by John David Kalodner, pp 16-19

Cover art by Howard Brunner
---
Back in the last half of the 1960's, when the world was awash in revolutionary fervor, Frank Zappa made us all think just a little bit harder by pecking little holes in our radical posturing and making music that was truly revolutionary by anyone's standards.
The sixties have gone, and with it much of our bravado, but Frank Zappa has emerged as one of the truly singular artistic forces of our time. In an era of derivative assembly line studio productions, awash with strings, pablum lyrics, and un-memorable musicianship, Zappa has continued to extend the realm of that all-encompassing entity known as ''pop'' music just as he did in the 60's with such ground-breaking efforts as ABSOLUTELY FREE and HOT RATS just to name a few.
A consummate "media-freak", Zappa has a background in advertising, has made movies, and lets nary a second pass without devoting it to some form of creative energy output. Difficult to pin down for an interview and not particularly interested in volunteering information not asked of him, Zappa disclaims the role of "oracle" – even though he's one of the first figures to come to mind when thinking about likely prospects for that nebulous profession.
The interview took place in Los Angeles. (read more)
Source: slime.oofytv.set