Circular
Promo only magazine published weekly by Warner/Reprise Records in the 70's. Nine by Nine in size and most issues are 8 pages or more including short articles on new releases, tour itineraries etc. and a column by Dr. Demento. Lots of original photos not published elsewhere. (
www.recordeli.dk
)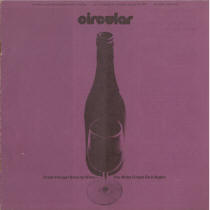 1971 August 16
Vol. 3 No. 24
Mothers Contest
p 7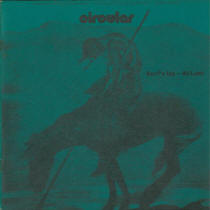 1971 August 23
Vol. 3 No. 25
18 Sides of The Mothers
p 5

Notorious Chicken Killers
p 8
---
Frank Zappa and his fellow Mothers of Invention are readying a nine volume anthology, a documentary of five years of Motherhood, for the record changers of the world. The albums, to be released on Zappa's Bizarre label, distributed by Reprise, will issue forth in three three record installments, the first of which will see light the end of this year (a Christmas package?). Plans call for the second wad of albums in mid-1972, an election year, with the wrap-up to come at year's end. (read more)
Notorious Chicken Killers
Alice Cooper has a reputation for murdering chickens during performances. Circular gathered the following quotes from Alice in defense. These originally appeared in the UCLA Summer Bruin (7-30-71) in an interview with Alice by Jacob Wiesel.
"Actually we never really killed any chickens – but nobody believes me. What happened was that we were doing an outdoor concert with the Mothers, and the stage was right underneath a veranda.
"Anyway, in the middle of the set I saw this chicken walking around on the stage, which I thought was pretty cute. So I thought to myself, it I take this chicken and throw it into the air, it'll fly away – not realizing that chickens can't fly.
"So I picked up the bird and threw it into the air, right into the overhang and it plopped back down with a broken neck. I felt really shitty about it, so I threw it into the audience. The crowd tore it to pieces.
"The very next day Frank comes over to me and says 'Hey Cooper, you've been on the road too long. I just heard that you took a chicken, bit its throat open, and sucked out its blood'. I nearly puked at that one. And ever since, we've been notorious chicken killers."

Source: slime.oofytv.set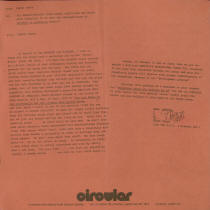 1971 September 20
Vol. 3 No. 29
Hey Hey Hey, Mister Snazzy Exec!
By Frank Zappa, pp 1-5
---
This is the first publication of imitated interview with himself, which was later republished several times:
Hi! We're the M.O.I. (Mothers Of Invention) or just plain Mothers. We like to make that clear so you don't get us confused with that "Mothers/Brothers" campaign that Herbie called you guys about and said "What's the deal?" . . . to make it very plain, verging on redundant: WE ARE NOT THE DOOBIE BROTHERS, NOR DO WE HAVE ANY CONNECTION WITH MOTHER EARTH, CAT MOTHER & THE ALL NIGHT NEWSBOYS, AND/OR EVERY MOTHER'S SON . . . (with all the rock and roll groups you got, we can understand the sort of lonely confusion a busy executive must experience while attempting to make rational judgments about things like good or bad taste in an ad campaign . . . we like you . . . we understand). (read more)
Source: slime.oofytv.set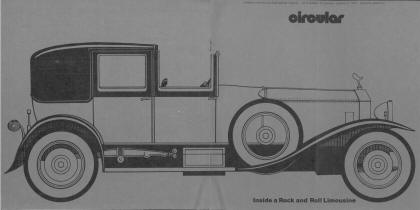 1971 October 11
Vol. 3 No. 32
You're Probably Wondering Why I'm Here
p 6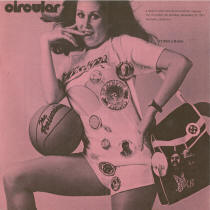 1971 December 27
Vol. 3 No. 40
Guess Who
p 5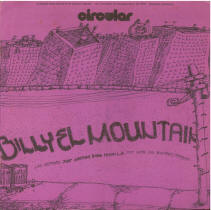 1972 April 10
Vol. 4 No. 14
---
Just Another Band From L.A. featured on the cover.
Beefheart Country (page 3)
Still storming Europe is Captain Beefheart, who at last report was in Amsterdam after roundly winning England. He displayed his paintings on a BBC television show, did uncounted interviews, spent some time with Ian Anderson from Jethro Tull, and performed, most often brilliantly (an occasional lapse occurred because of the vagaries of sound equipment there). Virtually everywhere was sold out, for good reason.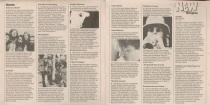 Source: slime.oofytv.set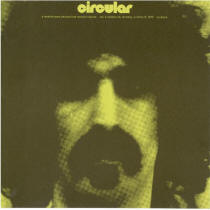 1972 October 9
Vol. 4 No. 40
The Complete History of Last Week's Mothers of Invention/Hot Rats/Grand Wazoo
By Frank Zappa, pp 2-6
---
Since the earliest days of the M.O.I. (from about 1964, roughly), I have been interested in assembling some kind of electric orchestra, capable of performing intricate compositions at the same sound intensity levels normally associated with other forms of pop music. The formation of the new MOTHERS OF INVENTION/HOT RATS/GRAND WAZOO represents the first large-scale attempt to mount such a monstrosity, and to actually move it across a couple of continents to do concerts.
The WAZOO DEBUT will occur at the Hollywood Bowl on Sunday, September 10, 1972. On the 13th of September, the Wazoo will depart for Berlin, London, The Hague, Copenhagen, New York City, and Boston, making a final return to Los Angeles on the 25th, having played a total of eight performances for its first concert season. (Read full text at Kill Ugly Radio.)
Source: slime.oofytv.set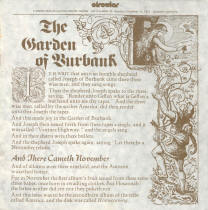 1972 November 13
Vol. 4 No. 45
The Garden of Burbank
pp 1-5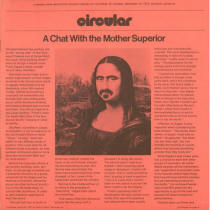 1973 December 10
Vol. 5 No. 42
A Chat With The Mother Superior
By David Rensin, pp 1, 6
---
Situated between two parking lots on the "wrong side" of the Hollywood Freeway exit at Sunset Blvd., the squat, white building doesn't seem as though it would house Frank Zappa's newly created record label, DiscReet.
And while not as freaky as the public might expect a Frank Zappa domicile to be, the structure inside is vaguely reminiscent of a car dealership, circa 16th century Turkey. Offices surrounding a courtyard are accessible only through their own sliding glass doors, while miniature minarets and mosque designs pop out here and there. One almost expects to see a sign reading "Frank's Used Car Deals/Best East of the Bosphorus Straits" hanging in close proximity.
DiscReet, according to Zappa, its president, is not an extension of the old Straight/Bizarre labels. "Those," he says, "were two labels for two different kinds of product. This is one label for all different kinds of product, an independent distribution deal on more favorable terms with WEA and for more dollars." (read more)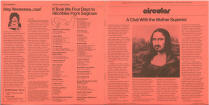 Source: slime.oofytv.set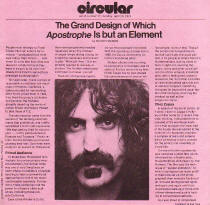 1974 April 29
Vol. 6 No. 17
The Grand Design of Which Apostrophe Is but an Element
By Barry Hansen, pp 1-3
---
People react strongly to Frank Zappa. His high school, for instance: "I graduated from Antelope Valley High School ... with about 20 units less than what was required, simply because they were in a hurry to be rid of me." (Quote from Frank's semi-official one-page autobiography).
Six years later, it was a group of reasonably normal beer-bar musicians in Pomona, California, a town not noted for trendsetting. After Frank joined them in 1964, they fired the group's old leader and became The Mothers, abruptly deserting the works of James Brown and Wilson Pickett to play those of F.Z.
The next reaction came from the owners of the drinking establishments that unwittingly, and briefly, subsidized Frank's self-expression. "We kept getting fired for about a year ... all the places between Pomona and Torrance," Frank recalls. But the Mothers persevered, growing their hair. Soon they were ready for an assault on Hollywood. (read more)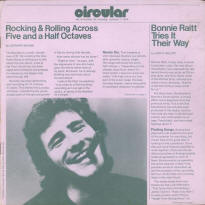 1974 October 7
Vol. 6 No. 32
Celluloid Artifacts Meet Reality
By Shelley Benoit, p 6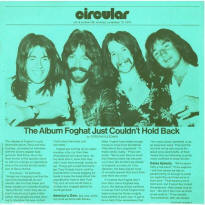 1974 November 18
Vol. 6 No. 38