Cheri
Launched in August 1976 as the "All True Sex News" magazine.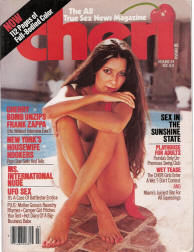 Vol. 3 No. 8
Cherry Bomb Unzips Frank Zappa
By Cherry Bomb, pp 16-17, 52
---
Hiya hons,
Your little magnolia blossom has just finished a delirious Frank Zappa week here in Fun City—and wow! All I can say is I wish every night was Halloween. First I caught the first of his sold-out Halloween shows at the Palladium, then his swell stint on Saturday Night Live, and, finally, an extremely personal interview in his suite at the St. Regis—I mean, in the living room of his suite.
Now, here's a man I've regarded with near-reverence for at least ten years. He used to do these crazy, brilliant, mind-boggling shows at the Fox Theater in Atlanta with various incarnations of the Mothers of Invention, and I never missed one. Even though he wanted his audience to get into it with him, I found he had a reputation for being a difficult, dictatorial performer to work with— especially if you were a member of the "completely meaningless" press, as he once remarked. It was, therefore, with real fear and trembling that I approached the super-plush hotel with my faithful photographer, Eileen, in tow.
And there he was, crouched and glowering on the couch. I'll tell ya, I was just stunned. Forget your Mick Jaggers and your Robert Plants—this guy is gorgeous up close! Frank Zappa radiates an animal magnetism, a bumpy allure his photos have never approached, and I'll play Suzy Creamcheese to his Uncle Meat any day. Establishing verbal contact, however, was something else:
ME: Oh Frank, I just saw your show, and I saw you on Saturday Night Live, and you were just FABULOUS! How did you get on the program—I mean, are you good friends with the cast?
FRANK: First off—I have no friends. (LONG PAUSE) (read more)
Source: slime.oofytv.set