Boom Müzik Dergisi
One of the most popular music magazines of the 1990s was the
Boom Müzik Dergisi
(Boom Music Magazine).
Boom
was released in the early nineties and succeeded in appealing to a wide audience by making room for both pop music and rock derivatives. (
The History of Music Press in Turkey
)
In the first half of 1990,
Boom Music
also had a 16-page heavy metal supplement called
Meridyen
, which ran for 6 issues.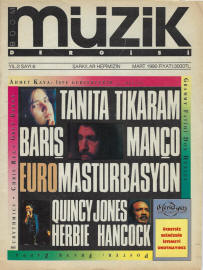 Vol. 2 No. 6
Centerfold poster