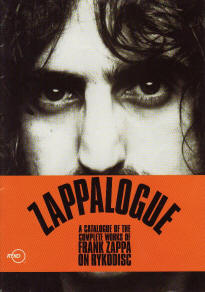 Zappalogue
A Catalog Of The Complete Works Of Frank Zappa On Rykodisc

Rykodisc Europe, London


1996
ISBN
16 pp, stapled, 21 x 29,5 cm
English
---
Welcome to the wonderful world of Frank Zappa. What follows is a real and complete story of what Rykodisc has done with the Zappa catalogue, on a release-by-release basis.

THE MUSIC: In the mid-80s, Frank transferred everything that was analogue to digital; remixing, editing tweeking and teezing. This resulted in the first batch of FZ CDs most on Rykodisc, some on Barking Pumpkin and other labels. In the early 90s, prior to the sale of his catalogue, he reviewed all titles. He approved new masters on everything (some of the actual work being done to his specifications after his death). In the case of the last two volumes of You Can't Do That On Stage Anymore (Vol.5 & Vol.6), Playground Psychotics, Ahead Of Their Time and The Yellow Shark, new timing sheets were created, but because they had been mixed and mastered as recently as 1991-1993, the original masters were simply error checked and OK'd. New timing sheets were created on all titles so the song times listed are now accurate.

THE ARTWORK: When Zappa's albums were first released on CD, the artwork size was reduced, sometimes graphics were discarded, sometimes colour images became black and white. The new releases have restored most of the LP art, colour is back, fold-outs exist in many titles to better simulate the original intent. Much of this work was done in consultation with Cal Schenkel. In addition, new images were added beneath the rear tray in as many titles as possible. Pictures of Frank are on the discs themselves (3 different shots-early, middle, late).
MISCELLANEOUS: Everything has been given a new, chronological catalogue number. We don't have the rights to release "200 Motels" yet, but we have reserved a catalogue number for it (RCD 10513 / 14). All titles have a FZ-only mini-catalogue included. "Uncle Meat", "Joe's Garage" and "Thing-Fish" are in double CD cases because of their booklets. All other double CDs are in slimline cases, at the request of retailers who can stock more Zappa titles that way.