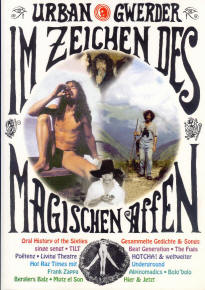 Im Zeichen des magischen Affen

WOA Verlag AG, Zürich


1998
ISBN 3-9512180-2-9
360 pp, paperback, 29,5 x 21 cm
German
---
This magnificent book has eight parts and is a Best of Urban Gwerder. Part 6 is about Zappa. (Part 1 is about Fugs.)
It's a plus 300-page A4-sized book and it's all about Urban Gwerder. The book exists in a male and female version (different covers) and the first 1000 copies include a free CD. The CD contains all sorts of things as it is meant to be a supplement to the book. Very funny (but way too short) is a 9-minute piece taken from the Mothers of Invention concert in Basel, October 1974. An essential publication!
Urban Gwerder 2008/2/2:
Zum Buch: es ist voller Spiele (ich bin auch ein spielerischer Mensch). Das mit dem Titelbild ist auch so eines. "male" oder "female" kann man getrost selber entscheiden... es gibt eine Tendenz, dass öfter Männer für das "Hippie"-Cover, Frauen für "Das Beste" (mir inzwischen von den Parodierten verboten!) sich entschliessen – manchmal aber auch radikal anders (weil sie gern schönes Männchen auf dem Cover haben wollen).
Urban Gwerder / Motz el Son
In The Sign Of The Magic Monkey
Schweizer Musik-Datenbank

CD Berlers Balz (mountaineers courtship)
1 PRÄAMBEL (FZ, Berlin 1974) – SUPERGIRL (Gwerder/Kupferberg) 2:34
Rec. 17. Februar 1984, Maiensäss Pany

2 ÖLTEN – ALLES AUSSTEIGEN 5:42
Rec. 1990 für die Buchvernissage im Paranoia City, Zürich
3 CYRANOS NOSE (Gwerder/Scholer) 3:48
CD "Sky Bird 111: Claudius Scholen – Das Schaf" (Boy 019), 1993
4 THE WRITING ON THE WALL (Mackay) 5:26
Rec. 5. Mai 1993, live Filmpodium Zürich
5 LES COULEURS DE LA MORT (Gwerder/Marfurt) 4:59
CD "eCHo, Schnitter, i hole di o" (Narrenschiff), 2007
6 MESMERIZED COWBOY (Gwerder/Lennon) 3:40
CD "Nigey Lennon: Reinventing the Wheel" (Dinghy Records) New York, 2000

7 ETERNAL MOTHERLY GOODBYE COLLAGE (Frank Zappa & The Mothers) 9:00
Basler Läckerli-Trommel Solo von Ruth Underwood
Guru versus Archives in Cosmic Debris
Room Service Funnies (Napoleon Murphy Brock & FZ) in "Pygmy Twilight"
Let's get the fuck out of here
Rec. 1. Oktober 1974, second show, live in Basel