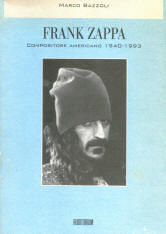 Frank Zappa
Compositore Americano (1940-1993)

Auditorium Edizioni, Milano


1997, 1st edition
ISBN 88-86784-10-4
96 pp, paperback, 24 x 17 cm
Italian
---
Marco Bazzoli, born in 1963 in Brescia, graduated in modern literature in Pavia. Between 1994-96 he had a radio show in Brescia dedicated to American music. He also contributed to Italian fanzine Debra Kadabra.
Source: Marco Ricci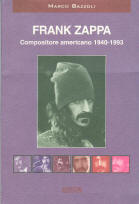 Frank Zappa
Compositore americano 1940-1993

Auditorium Edizioni, Milano


2003
ISBN 88-86784-23-6
160 pp, paperback, 21 x 14 cm
Italian
---
2nd edition of this book together with a Zappa tribute CD The Purple Cucumber.
In November 2010 a new 3rd edition of this book will be published.