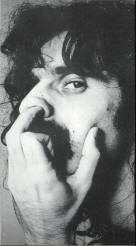 Apocrypha (Thirty Years Of Frank Zappa)

Great Dane Records


1994 May
ISBN –
40 pp, stapled, 25 x 13,5 cm
English
---
Booklet from the 4 CD boxed set on the Great Dane Records label Apocrypha (Thirty Years Of Frank Zappa: "The package contains a large (40-page) colour booklet with dozens of pictures and a very long and confusing 1988 interview. Liner notes appear on the far right on every right-hand page - in the style of the Stage series, "complete with misinformation" (the band line-up details are especially abominable: they are not complete, and they falsely state that the Bob Harris from 1971 and the Bob Harris from 1980 were the same person). The front of the booklet has a mid-'70s Zappa picking his nose with his middle finger; the back has an old Zappa pulling down one of his eyelids, looking rather sickly. Some copies have had errata & corrigenda inserts."
Includes "previously unreleased conversation, transcripted as an exclusive for Apocrypha" – Bob Marshall, October 22, 1988.
Assembled by Erroneus, Venanzio Ridonzoli and Thunder TV.
Source: slime.oofytv.set