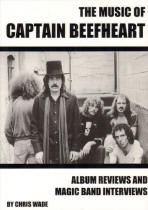 The Music Of Captain Beefheart

Wisdom Twins Books, Leeds


2015 February 11
ISBN 978-1-326-18153-6
94 pp, paperback, 21 x 15 cm
English
---
A 90 page album guide to the music of Captain Beefheart and the Magic Band, printed to order for each customer.
Perhaps the most valuable parts of the book are exclusive interviews. The full list of participants: Bill Harkleroad (Zoot Horn Rollo), John French (Drumbo), Pauline Butcher, Art Tripp (Ed Marimba), Robert Williams, Cliff Martinez, Dr. Demento.
Radar Station interview with Chris Wade
RS: What prompted you to write this book?

CW: Well I'm primarily a musician, but I love to write fiction and also non fiction. I love writing about the music I love. If there's one thing I hate it's reading a music book written by someone who goes on to slag every song the band ever did, i.e. a book like Revolution in the Head by Ian MacDonald. I like to read passionate books that are positive, and like to write that way too, otherwise we're all wasting our time, reading and writing about things we don't even like. I wanted to focus on the music and also get a portrait of Don from fresh interviews with Magic Band members and people who met him or knew him. My favourite input comes from Bill Harkleroad. That bit for me is really something special, as he rarely discusses Beefheart now, so I was honoured to even get a reply from him.
Reviews
Captain Beefheart Radar Station - incl. interview with Chris Wade
Zappateers forums

Bookshops