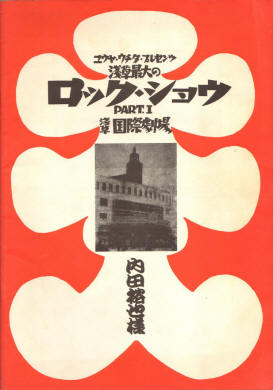 The Greatest Rock Show in Asakusa

Asakusa International Theater, Tokyo


1976
ISBN -
36 pp, stapled, 36 x 25,5 cm
Japanese
---
Title page:
| | |
| --- | --- |
| ユウヤ・ウチダ・プレゼンツ | Yuya Uchida Presents |
| 浅草最大の | Asakusa |
| ロック・ショウ | Greatest Rock Show |
| PART.I | PART.I |
| 浅草国際劇場 | Asakusa International Theater |
Starring in this concert:
Cosmos Factory (コスモス・ファクトリー) / Four Person Folk Music (四人囃子) / INOUE TAKAYUKI WATER BAND / SKD / YUYA UCHIDA & 1815 SUPER ROCK'NROLL BAND / FRANK ZAPPA & THE MOTHERS
TAN Mitsugu:
As this program was originally prepared for the 1976/2/1 Tokyo concert entitled "The Greatest Rock Show in Asakusa", the first half of it is an introduction to the opening acts of the concert. (In fact, the front cover only mentions Uchida Yuya, while FZ's name was printed on the back cover.) As it turned out, however, it was sold as a tour program at other venues of the FZ Japanese tour, too.

The second half of it is "ZAPPAGRAPHY" by Yagi Yasuo (who would publish "Zappa Vox" in 1989). You can see it having the same visual style as his other artworks, including the illustrated insert for the Japanese vinyl of "Apostrophe (')" (picture 1, picture 2) and the hand-written article for New Music Magazine (1976 April).
The cover design is based on a traditional Japanese logo called "O-iri (full-house)":



p 2 Foreword by Uchida Yuya, who was not only a vocalist for one of the opening acts, but also the promoter of this Asakusa concert and FZ's Japanese tour. According to Yuya's words, his original plan was to invite the Mothers to his yearly "New Years World Rock Festival", but it fell through due to FZ's tour schedule. Finally, on October '75, he went to New York to negotiate with FZ, and reached to the agreement on the Japanese tour.

p 18 Warner Pioneer ads for FZ's Japanese releases.

pp 20..21 Credit of the editorial staff. You can see this messege: "ZAPPAGRAPHY ART: Yagi Yasuo ... DEDICATED TO CAL SCHENKEL".

pp 22..24 An abridged version of "Rock Giants From A-Z" from MM Japan.

pp 25..34 "(Not So) Definitive Discography" by Yagi Yasuo. Although Yagi added "not so", it's definitely an interesting piece of collage art by the FZ enthusiast. P 34 has a photo of Yuya and FZ, taken by Bob Gruen at the October '75 meeting.

p 35 A parody of "National Lampoon" by Yagi Yasuo. You can see a glimpse of the original color illustration here.

Insert This "supplement at the last minute" has a transcription of an international telephone interview with FZ (who was still touring in Australia), which was aired in FM Tokyo's program called "Otto Music Shout" on January 25, 1976.

Some quotes:

Q: Why and how did Roy return to your group?

FZ: I asked him to play with us again. He had been working in a steel wire factory for two years after quitting the music business. His last gig as a musician was with Captain Beefheart, and then he retired and got the steady job to support his family. I managed to get in touch with him, and encouraged him to play with us again.

Q: What are you looking forward to do (in Japan)?

FZ: Can you guess what I'm looking forward to do the most? I'd like to visit a monster movie studio. I want to see how they're making those movies.