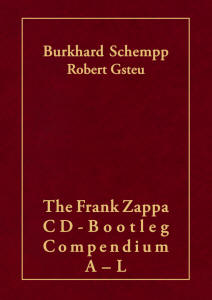 The Frank Zappa CD-Bootleg Compendium
Private publishing


2023 July
ISBN -
980 pp, hardcover, 30 x 21,5 cm
English
---
Burkhard Schempp:
here it is: The Frank Zappa CD-Bootleg Compendium 980 pages with all infos to all Bootleg-CDs

Three books: each DIN A4 / hardcover / special 135g picture print paper
● Book #1: A – L (400 pages)
● Book #2: M – Z (388 pages)
● Book #3: Liner Notes / Label Index / Show Index* (192 pages)

* for the very first time under the respective dates all the relevant CD-titles are listed, marked with:
- full show (or at least main part) (1)
- partially show (2)
- single song / fragments of show (3)

This special deluxe edition is limited to 50 sets. The books will be released in July (just in time for Zappanale). Later this year there will come a standard version in one single book.