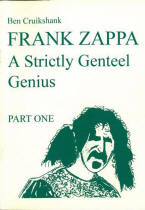 Frank Zappa: A Strictly Genteel Genius

Agenda, Andover, Hampshire


1996
ISBN 1-899882-30-8
90 pp, stapled, 20,5 x 14 cm
English
---
A book by a fan, which provides "song-by-song comments for every FZ record", but includes unfortunately many errors.
Because of a very simple binding (stapled brochure) the book was issued in two parts. Two years later the same book in a re-written form and with some chapters more was published again - Frank Zappa: A Strictly Genteel Genius Rides Again by Ken Brooks.
Kenneth Brooks was the owner of Agenda Ltd., which published 1995-2000 several books on rock music, including books on Frank Zappa and Captain Beefheart. Until 1997 Ben Cruikshank was referred as author, later 1997-2000 Ken Brooks himself. We suppose that Ben Cruikshank was a literary pseudonym of Kenneth Brooks. Some books by Agenda were published as a teamwork of Ken Brooks and Paul Barrera. We don't have no further information about Paul Barrera. The Agenda Ltd was dissolved in 2000.
Ben Cruikshank (in foreword):
I commenced this book in January 1996, but a rewrite was necessary due to my good friends at Rykodisc Records releasing a compact disc of Frank's early days, titled 'The Lost Episodes'. This disc should be the last collection in this book but due to the importance and relevance to all the releases of Frank and the Mothers, it has been necessary to start with it.

The views expressed in this investigation into the work of Frank Zappa and The Mothers of Invention are entirely my own, and I take full responsibility for them. I have always been a close follower of Frank's music in all the differing styles and performances, and if I am at any time at variance with you dear reader then I humbly respect your views, and hope that you will attempt to understand mine. I have re-listened to the complete Frank Zappa canon of officially released material, trying to re-evaluate my thoughts now, in comparison with my initial reaction at the time of hearing them for the very first time.
Source: slime.oofytv.set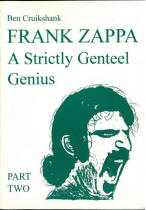 Frank Zappa: A Strictly Genteel Genius

Agenda, Andover, Hampshire


1996
ISBN 1-899882-35-9
90 pp, stapled, 20,5 x 14 cm
English
Source: slime.oofytv.set