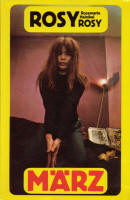 Rosy Rosy

März Verlag, Frankfurt am Main


1971 1st edition
ISBN _
220 pp, paperback, 21,5 x 14,5 cm
German
---
On pages 162-172, R. Heinikel writes about the Mothers of Invention concert in Munich, December 13, 1970, backstage, and her night with Zappa. All this text up until the last words "We call this Schwabing, Leopold Street" was typed the next afternoon on her typewriter.
Rosemarie Heinikel, born 1946, is a German actress, singer, producer and writer. As Rosy Rosy, she was an icon of German subculture. Similar to Uschi Obermeier she lived in a commune, but only as a guest. [1]
Her first single was Agilok & Blubbo (1968) that she sang with the band "The Inner Space", and was included in the soundtrack from Irmin Schmidt, one of the founders of Can.
She appeared as a solo singer for the Guru Guru band's 1969 concert tour. The underground psychedelic song "Sitting in the Sun", released on Guru Guru and Uli Trepte CD, is based on her improvisations.
In particular, her work in 1969 & 1970 as a performance artist was hyped in the media and marketed years later, legend abounds.
Her first autobiography Rosy Rosy was first published in 1971 and later reprinted several times by editions Zweitausendeins and Rororo.
She made her own films & broadcasts, worked on films with Wim Wenders in New York, played opposite Kinski, and as Miss Peachum in Brecht's Threepenny Opera.
After her second book appeared, the new wave band "Z" from Berlin devoted a song to her [2]. In 1981, Achim Reichel arranged and produced her first LP Teldec Studio [3].
In the years following, she was a vocalist for the big-band album "Dance Palace" by Jörg Evers on the EMI label.
Many thanks to Rose Marie Heinikel for support and collaboration.
Killuglyradio
Hans-Georg Behr über Rosemarie Heinikel "Rosy Rosy": Verschrecktes kleines Mädchen