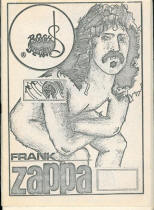 Frank Zappa

Rock-Serwis, Krakow


1986
ISBN –
58 pp, stapled, 21 x 15 cm
Polish
---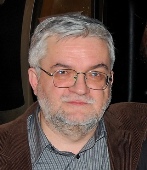 Piotr Kosiński
Writer, rock critic, radio personality,
journalist, publisher.
This is the first book on Zappa in Polish. Issued in communist period in 1986 as typewriter typed and then one by one copied stapled booklet. The communist party lost its dominance in Poland later, in 1989.
The edition publishing this book – Rock-Serwis – was founded by Piotr Kosiński in 1983. Authors Beata Zawieja and Piotr Kosiński has co-written several books on rock music artists. The most well-known is maybe their book about King Crimson.
Rock-Serwis is still active today.
"Rock-Serwis" has existed since 1983. At first it has dealt entirely with publishing music books (encyclopaedias, biographies, discographies, lyrics collections) about the most interesting rock artists. In 1994 "Rock-Serwis" started its music publishing, distributing and promotional activities.
Source: slime.oofytv.set