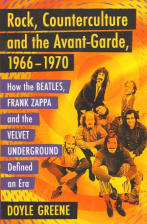 Rock, Counterculture and the Avant-Garde, 1966-1970:
How the Beatles, Frank Zappa and the Velvet Underground Defined an Era
McFarland, Jefferson, North Carolina


2016 February 17
ISBN 978-1476662145
232 pp, paperback, 23 x 15 cm
English
---
This book focuses on the Beatles, Frank Zappa, and the Velvet Underground from 1966 to 1970, concentrating on the Beatles' later years, Zappa's work with the original line-up of the Mothers of Invention and his early solo albums, and the course of the Velvets' career trajectory. In related discussion, it examines John Lennon's collaborations with Yoko Ono, the Zappa-produced album Trout Mask Replica by Captain Beefheart and the Magic Band, and The Marble Index, an album by former Velvets vocalist Nico which featured extensive contributions from another ex-Velvet member, multi-instrumentalist John Cale.
AR:
This book is an interesting reading about avant-garde and experimentalism, modernism and postmodernism, commercial and cultural values. Example:
If one attends a concert performance of Handel's Messiah, the sound of a cell phone ringing in the audience becomes a highly irritating and unwanted intrusion of "noise" within the music. In the case of 4'33" a cell phone ringing may well be the "musical" highlight of the performance.
Bookshops