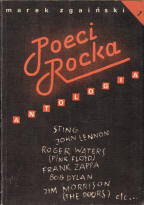 Poeci Rocka 1
Antologia

Oficyna Wydawnicza "Akademos"


1990
ISBN 83-85308-02-4
148 pp, paperback, 20 x 14 cm
Polish
---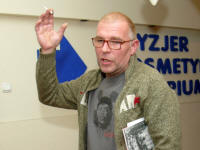 Marek Zgaiński
Composer, poet, translator, guitarist.
This anthology, published in two volumes, contains rock poetry compiled by and also mostly translated by Marek Zgaiński.
Included are following songs from Zappa:
I'm The Slime – Jestem śluzem
50/50 – Pół na pół
Dirty Love – Nieprzyzwoita miłość
Joe's Garage – Garaż Joego (full album)
All Zappa songs translated by Jędrzej Polak and Mark Zgaiński.