Korkealta ja kovaa
Tammi, Helsinki


2007
ISBN 978-951-31-3837-0
160 pp, hardcover, 27 x 26 cm
Finnish
---
Korkealta ja kovaa: rokkikuvia 70-luvulta – High and hard: rock pictures from the 70s – is a book by photographer Reijo Porkka and journalist Tommi Liuhala. Contains pictures of world stars performing in Finland and Finnish rock groups.
The Zappa part is on pages 150-157. Beside pictures from well-known Zappa actions in Helsinki – concerts, wedding event, Shashlik party etc. – two photos are of Finnish people extra related to FZ.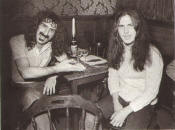 On page 153 is a picture from Shashlik party with FZ and Finnish bass guitarist, composer and multi-instrumentalist Pekka Pohjola. Zappa liked very much Pekka's music and had plans to record with him. This plan never realised. Pohjola died in 2008.

On page 155 is a picture where FZ and always pipe-smoking recording engineer Jukka Teittinen are in the studio. Jukka was credited on You Can't Do That On Stage Vol. 2, Helsinki Concert as recording engineer and on One Size Fits All as "Jukka - engineer" for recording the solo on "Inca Roads".
Additional reading - Frank Zappa poltti näppinsä Suomesssa, Frank Zappa In Finland, Finland and Elsewhere.
Recommended listening - Pekka Pohjola, Pihkasilmä kaarnakorva, 1972