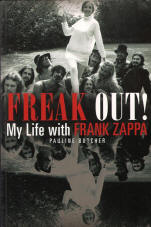 Freak Out!
My Life with Frank Zappa

Plexus Publishing Ltd.


2011 September 5
ISBN 978-0-85965-479-1
320 pp, paperback, 23 x 15,5 cm
English
---
Plexus: "This is a thrilling, captivating portrait of a naïve young English girl thrust into the mad world of a musical legend. Her memoir gives a vivid window on the era, on Hollywood, and is the most intimate and revealing portrait of Frank Zappa ever written."
Pauline Butcher:
The book, Freak Out: My Life with Frank Zappa, tells my story when I worked for Frank from 1968 to 1972. I lived at the log cabin for four months with his wife, Gail, Moon, and the entourage that Frank gathered around him. After that, I moved along Woodrow Wilson Drive, half a mile from Frank and Gail, and worked nocturnally in line with Frank's hours. Although it was forty years ago, I not only kept a diary but wrote frequent 20-page typed letters to my mother. These are the basis from which I've woven the chapters. I could not have done it without them. Some people may not agree with my view of Frank, but I hope I have been fair and balanced.
page 24
[August 17, 1967. Speakeasy club, London.]
Still wearing his coat, Frank dropped beside me. Out of the gloom a figure with a mop of hair and long sideburns appeared. 'Frank, Frank, great to see you, man.'
Whoever this was, he pulled up a chair.
Frank turned to me, 'Pauline, Eric Clapton. Eric, this is Pauline Butcher.'
I shook his hand, and leaning forward like a benevolent music teacher, asked, 'And what you play?'
His eyes slithered to Frank, then back at me. He came close to my face and said confidentially, 'I play the guitar.'
'That's nice,' I said.
[Later Zappa introduced to the crowd Clapton's band, Cream.]
page 29
[After the famous Royal Albert Hall concert in September 23, 1967.]
Frank swivelled round to Calvin. 'Did you get some good shots?'
'During the concert? No.'
Frank turned further in his seat to check he'd heard correctly.
'I was hungry. I went to eat,' Calvin explained.
'You went to eat?'
'Yeah.'
I expected Frank to explode. Instead, he raised his eyebrows and said quietly, 'I brought you three thousand miles to do one fucking thing - take photographs of the show - and you go out to eat? How long it take to eat?'
'We couldn't find anywhere. It took a while.'
News/reviews
wikipedia on Freak Out! My Life with Frank Zappa
Frank Zappa: the clean-living hellraiser
Zappa 'a humane and unusual man'
Review by Oregano Rathbone @ Record Collector
idiotbastard.com
Great writing by S.M.Marson
Zappateers forums
alt.fan.frank-zappa
Bookshops
Pauline Butcher
Facebook - Zappa diaries
Pauline Butcher remembers life as Frank Zappa's personal assistant, 1968
The Susijn Agency
Killuglyradio
alt.fan.frank-zappa - FZ secretary speaks
Translations of this book:
Italian

Spanish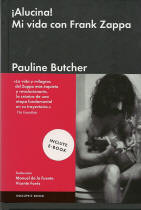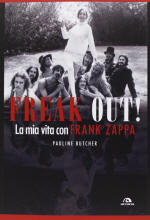 Freak Out!
La mia vita con Frank Zappa
Arcana


2013 November 27
ISBN 978-8862313438
374 pp, paperback, 22 x 15 cm
Italian
---
Translation by Paolo Bassotti.
News/reviews
Bookshops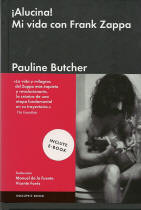 ¡Alucina!
Mi vida con Fran
k Zappa
Malpaso Editiones


2016 February
ISBN 978-84-16420-66-7
407 pp, hardcover, 21 x 14 cm
Spanish
---
Javier Marcote:
It's been translated by Manuel de la Fuente & Vicente Forés ( who did it before with the Spanish translation of The Real Frank Zappa Book a few years back). Manuel told us that this Spanish edition has been upgraded from the English one.

It's longer with more chapters, epigraphs, footnotes, even reference to Gail's death at the end. The second edition upgraded in English will be released at the end of this year.

Last Thursday [February 18, 2016] Pauline arrived to Barcelona from Singapore & met Malpaso editors & had some radio interviews as well. Find some pics attached I have received.
News/reviews
Bookshops
Source: Javier Marcote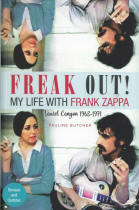 Freak Out!
My Life With Frank Zappa
Laurel Canyon 1968-1971
Plexus Publishing Ltd.


2022 October, Revised and updated edition
ISBN 978-0-85965-570-5
352 pp, paperback, 21 x 14 cm
English
---
A note to this edition by Pauline Butcher:
When this memoir was first published, I felt I was writing about Zappa's women. I did not realise that the book's true focus was the relationship between Frank Zappa, Gail Zappa and me. I was a young, straight English girl who found herself suddenly immersed in the weird life of Frank Zappa's log cabin in Laurel Canyon, Hollywood. Psychologically locked in, I found it as difficult to get out of that little world as others found it to get in. Yet it allowed me to see, first hand, Frank's daily moods, his highs and lows, and everything that made up his day-to-day life. I realised, having written the first edition of Freak Out! My Life with Frank Zappa, that I was my own person and that I no longer needed to live in his shadow. This realisation, along with the success of the book, gave me new confidence. In the first edition, I upgraded all of the women in Frank Zappa's life and downgraded my own influence. With new confidence, I have revised the book so that the relationship between Frank and me is the central thread. I also feel that in light of the #MeToo movement, certain scenes have taken on a new significance since I first published this book, providing the reader an insight into the power dynamics at play both in the music industry and the film industry at the time. In this version, I have. added sections which I somehow missed first time around and have also re-structured many scenes, and gathered together those for example on the Mothers of Invention, the GTOs, and so on, rather than have them scattered all over. This is the memoir I meant to write.
Bookshops
Book Depository (worldwide free shipping)
imusic.co
waterstones.com