FZ88: A Visual Documentary
Zappa's Final Tour
Wymer Publishing


2019 March 1
ISBN 978-1-912782-07-9
128 pp, hardcover, 23 x 32 cm
English
---
Wymer Publishing:
FZ88 is a limited edition hardback coffee table photo book of Zappa's last tour, based around the photos of Sergio Albonico who had exclusive access to the band during rehearsals. It is augmented with photos from the tour as well as narrative by Zappa author Andrew Greenaway.

Also includes an interview with Zappa himself that his former secretary Pauline Bird did during the tour as well as one with Albonico.

It comes in a presentation box with a set of prints.
Andrew Greenaway:
Now in stock and ready for immediate shipment: FZ88, a photobook that covers Frank's final Broadway The Hard Way world tour. The book includes: an introduction that brings you up to date on the 88 bands' doings since my Zappa The Hard Way book; over 100 photos taken by Sergio "Milo" Albonico during rehearsals; more than 50 'fan' photos from the tour (mostly from the collection of Ole Lysgaard, of Joe's Menage fame); an updated 1988 discography; quotes from the principals that tell the tale of the tour; a brand new interview with Milo specially conducted for this book; and the full interview Frank's former secretary Pauline Butcher conducted with Frank mid-tour. Strictly limited to 500 copies, grab one while stocks last!
Links
Bookshops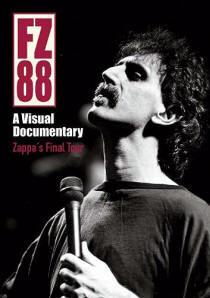 FZ88: A Visual Documentary
Zappa's Final Tour
Wymer Publishing


2021 September 24
ISBN 978-1-912782-74-1
128 pp, paperback, 21 x 29 cm
English
---
Softcover version. Signed books available on The Idiot Bastard Shop.

Andrew Greenaway:
The softcover version of my FZ88 book with Sergio Albonico is now available from Wymer UK (or there's a few signed copies available from my online store). For those who bought the limited edition hardback, you don't need this one too: yes, it has a different cover, I've corrected a few typos and added the Last US Show to the discography plus one 'new' quote from Chad Wackerman about how the band was initially put together for a TV show that never happened. But that's it. Save your money for gas!
Bookshops