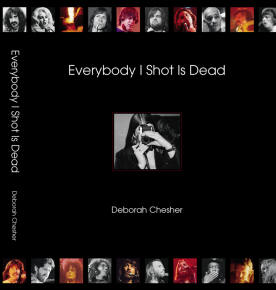 Everybody I Shot Is Dead

Chesher Cat Productions, Inc.


2007 November
ISBN: 0-9796542-0-3
208 pp, hardcover, 29 x 25 cm
English
---
cheshercat.com:
In the coffee-table book, Everybody I Shot Is Dead, photographer/author Chesher pays tribute to forty-eight musicians she shot in Vancouver and Los Angeles between 1974 and 1979, who have since passed away. With access to the world of rock'n'roll that most can only dream of, she not only captured amazing images of these legendary performers, but also personal memories and captivating behind-the-scenes stories. Chesher's collection of over four hundred of her never-before-seen iconic photographs is accompanied by biographies and her personal reflections of a time when music was the magic that drove a generation.
Zappa's pictures on pp 48-54 were made in Vancouver, June 14, 1974.
Links/Reviews
Source: Fulvio Fiore