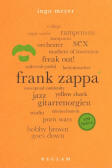 Frank Zappa. 100 Saiten

Reclam, Stuttgart


2018 September 28
ISBN 978-3-15-020459-7
100 pp, paperback, 17 x 11,5 cm
German
---
Exactly 100 pages on Frank Zappa. Contents:
Opening Number
Die Basics
"Music is the best"
Komplexität und Bizarrerie: "What's New in Baltimore?"
Pflichtübung: "Conceptual Continuity"
Grossprojekte
Gitarre, Gitarre, Gitarre
Text und Kontext
"Ooooh, I'm Dancing" / "Make a Sex Noise"
All that Jazz?
Angriff aufs grosse Orchester / Computerspiele
Und Heute?
Bookshops