The Jimmy Carl Black Interview
By Gregarious
---
(The following interview with Jimmy Carl Black took place over the telephone on January 11th, 1985 from Jimmy's home in Austin, Texas.)
G: Tell me a little about yourself.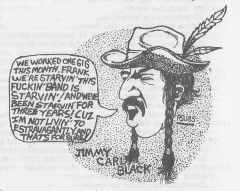 JCB: I was born February 1, 1938 in El Paso, Texas. I started playing professionally in 1958 in Wichita, Kansas. The first band I ever played with was called "Them Three Guys". I'd gone and bought a set of drums – I didn't even know how to set them up, and I got the gig the first night I bought these drums. I was a trumpet player before. I played trumpet for about twelve years. So actually I've been playing music since I was about 5.
G: How did you meet up with Frank Zappa?
JCB: I moved to California in 1964, met Roy Estrada, and started playing with him in a band called "The Soul Giants". Ray Collins was also in that band, and that was the band that Frank joined. Three days later, Zappa took over, and the rest is history.
G: What was it like being one of Zappa's Mothers?
JCB: It was the best rock and roll band in the world! A lot of people didn't think so; I mean, we were the King of the Underground. We got nothing played on the radio, or anything like that. But I think we were playing the most innovative music happening at the time. Frank keeps making references in several interviews that he didn't think much of us as players, but isn't that strange, that without us, nobody knew who Frank Zappa was?! Zappa had to start someplace, and in my opinion, I still think the original Mothers Of Invention were the best band he ever had. They may not have been the best TECHNICAL band, but I'll tell you right now, as far as putting on a show, it was THE best band in the world.
G: I can remember seeing the old Mothers in Boston, around 1968, at the Ark...
JCB: Sure, I remember that gig. We also played the Boston Jazz Festival – Roland Kirk got up and sat in on that gig with us. It was wild! We were into Uncle Meat at that time, and maybe stuff that was being recorded for Weasels and Burnt Weeny Sandwich.
G: What caused the break-up of the original Mothers?
JCB: Well, it was 1969, almost 1970. We got off a big tour and had been home about three or four days. I got a call from Frank saying he had decided to break up the band and our salaries had stopped as of the past week. I thought that was pretty cold myself, but Frank is a pretty cold guy. He's strictly business. I mean, he wrote the song, "I Ain't Got No Heart"... Frank couldn't fire us from the band because we were all partners – we weren't sidemen. He couldn't fire us so he just disbanded the group. But the way he disbanded the group; just chopping everybody off, without any severance pay, from this hugely successful tour that we had just gotten off of – obviously, the band was making SOME money, man – or SOMEBODY was. We were playing in these packed halls; sometimes emptying it out and filling it back up again. Now tell me the band's not making any money. The band never went first class. Frank went first class, but we didn't. Towards the end he wouldn't even stay in the same hotel with us, which was fine with us, because we got more girls then he did ... and got a lot higher than he did. And that's as far as we'll go with that. Yeah, Frank's a weird guy...
G: On the recent tour I find that Zappa isn't doing as many different shows as he used to years ago.
JCB: Well, WE never played the same show twice. The shows he's doing now are not spontaneous, and that's what MADE the Mothers of Invention. We rehearsed so often and played so much, we had a telepathic thing happening. Everybody knew what he was going to do before he did it. It was magic and he's never had that since; he's got nothing but SIDEMEN with him now. Oh, he's got same great guys, though... Frank isn't exciting ME too much with his music right now. He's just re-hashing. All those songs, we played back then – they just had different names. Different arrangements now, but they're still the same songs.
You know I'm actually flattered that you're doing this interview, because it's about time that somebody recognized the original guys in the band. Because with us, Frank Zappa would be NOTHING right now, and you can tell HIM that for me, if you want! Maybe he'll settle our little lawsuit then, if he starts thinking about it.
G: There's a current lawsuit up?
JCB: Well, we want to get paid for what we recorded so far in our partnership. It's been 20 years since we got any money, and I think he owes us money. All those old albums sure sold a whole bunch, and now he's got it re-released again. He's never even contacted any of us, to even let us KNOW it was being re-released. A friend of mine told ME about it! That's how I found out that the albums were being re-released. Now what kind of bullshit is that? – for the guys that helped you get where you're at. I suppose that since he didn't pay us the first time for royalties, I suppose he's going to go this time without paying us anything. He hasn't even sent me a copy of the new box set. I think I would be entitled to a copy of something that partly belongs to me, which those albums do. And Frank's going to be finding that out very shortly; that he may have acted a little out of line by doing what he did, according to certain legal documents.
G: After the band broke up, what did you do?
JCB: I started a band called Geronimo Black. The musicians were Bunk Gardner, Denny Walley, Andy Cahan, Tom Levy, and Jay Cantrelli – a six piece band. That lasted till 1973, and then I moved back to El Paso. I had one band, Big Sonny & The Low Boys, that recorded both a single and an album. It's real hard to get – R&B stuff. In 1980 I did an album called "Clearly Classic", a clear, plastic blob-shaped record. I pressed 500 copies and made them as collector's items. Eight 1950's R&B songs: Blueberry Hill, I'm Ready, Love Potion #9, Cherry Pie, Dance With Me Henry, Ain't Got No Home, and Boney Moroney. It's along the same lines as John Lemon's "Rock & Roll" album. Then I did two albums with the Grandmothers (Rhino Records) and then another Geronimo Black album on Helios Records.
G: Speaking of a resurgence of old material, I saw 200 Motels on a cable channel awhile back, and thought it was a great piece of work.
JCB: It's a funny flick. I've got to give credit to Frank for that – he was an innovator. That whole thing was made with television cameras, and then edited and transferred to film. The movie was made in three weeks – two weeks of rehearsals and one week of filming. Frank hired some of the original Mothers as actors, and paid us $500 apiece. The Mothers in his band, then, got $3000. Now that was a fair deal, wasn't it? It all goes back to the fact that Frank has no respect for the people that made him happen. I will say, that when I did the song "Harder Than Your Husband", he paid me scale, and put me up in the best hotel in Hollywood, and paid me per diem. I actually did pretty good on that one; the only time I've done any good with Frank. You know that song was originally going to be on an album called "Fred Zeppelin", but then John Bonham died, and Frank changed the title.
G: So what are you up to now, Jim?
JCB: I'm playing drums in all all-black gospel group here in Austin. This gospel thing is a really interesting trip for me. I've always wanted to do it, but never had a chance to. They're all real good players, and they all sing their asses off! I also have a little quartet – a rhythm and blues thing that I front as a singer. And then, during the day, I paint houses with my partner, the "God of Hell-Fire", Arthur Brown. Our company is called "Gentlemen Of Color". Arthur has a new album out now where he used a drum machine and a synthesizer for everything.
G: What do you think of the current popularity of drum machines and electronic drums?
JCB: I don't care about 'en. I play rhythm and blues when I play drums. I just like the sound of real drum. I have an endorsement with Dragon Drums. I've been with them for about three years. I don't think they're making the wooden drums anymore. I have an 8-piece set: six tom-toms, 22" base drum, an 8" snare drum, they make that's real good. I'm also using one of those French pedals – the ASBA. It's the best pedal I've ever played. They're real hard to get here in the States, it seems. Dragon's the only company that's asked me to endorse their equipment. If I had a choice of being an endorsee with any drum company, it'd be Gretsch. My grandson has my first set of drums – they're still in the family. This small Gretsch kit went from me, to my son, and then to my grandson. And those damn things still sound the best. I recorded all those albums with Frank on those drums. I bought that set new in 1958 – $450 with cymbals and cases, right off the showroom floor.
G: Is there anything new in the works from you or the Grandmothers?
JCB: I have the master here for a yet-to-be-released third Grandmothers album. There's a song on it called, "What Was Frank Zappa Really Like" that Don Preston wrote: "Did he fly into a rage/I bet he smoked dope all the time/And did he really shit on stage?" I'm going to put out a four-song EP this year. I have a version of "Big Leg Emma" that I want to record, along with three of my own songs. I'd like to really get some sort of label thing happening. Back to the Grandmothers, if the lawsuit gets going, and we can get some money from Frank, we want to get back together and do some stuff. We do a lot of fusion stuff, plus we do a lot of old Mothers stuff – stuff that Frank doesn't do anymore. We've been to Europe about three times so far, but we haven't played much in the States. This time, when we get back together, I'd like to do an intensive tour of the USA. I think there's a whole lot of fans out there that would really get off on it.
Read by OCR software. If you spot errors, let me know afka (at) afka.net