Zappa In San Francisco - May 18th, 19th & 20th
By Len Callo
---
In the cold misty fog of a San Francisco weekend ...... yes, weekend! Friday, May 18th, 1:06 pm: I had the overwhelming honor of talking to Frank in person – on the phone. I called KCBS radio where he was being interviewed and he told me how rehearsals with the band would begin Monday, May 21st and that the tour would begin around July 15th. He also told me (and the rest of the listening audience) who would be in the new band and that they were auditioning for a 2nd keyboard player who could sing rhythm & blues falsetto. In other parts of the interview he shocked the panty hose off of Little Miss Talk-show Hostess with his perceptive viewpoints on musical and sociological problems in the U.S.
Other high points of the interview were: Frank suggests 'Moldred' as the name for the unborn child of a SF couple; after listening to a bit of Mo 'n' Herb's Vacation the wench (hostess) had the gall to ask if it was music – needless to say FZ verbally tore her apart; he talked about the Boulez performances and said that it was recorded for Angel (Records) in the U.S. & EMI in Europe and expects that they'll be releasing them in the next couple of months; Frank said that he was thinking of putting out 2 T-shirts – one that reads 'DOPE, you are what you use' and another that reads 'Olympic Urine Tests should be given to doctors, lawyers, judges, and politicians, because when they use drugs you can die.'; Frank let the audience have an earful of his view on U.S. education, politics, religion, drugs, the media and more. My kind of entertainment!

9 PM that evening: I've been ripped off! Swindled! Brutally robbed! The San Jose Mercury News printed this article:
KPFA say's it was a typo and should have read 9 AM (not PM). Missed that one! That evening the Chamber Symphony of San Francisco would perform the American premiere of Dupree's Paradise to be followed by a $50 a plate post-concert supper with Frank. Saturday, the 19th, 7:30 PM: I thought that talking to Frank on the phone was the thrill of my life – not to realize that soon that would be topped! My good friend Alfred & I were waiting in the lobby for the doors to open, when who should happen to walk through but Frank himself. As FZ stopped for a drink of water I said to him, "Frank, how 'ya doin', I talked to you yesterday on the radio." He shook my hand and said, "you mean the Joy Brown show?" Then he laughed. We exchanged some remarks, then engaged in a full blown conversation. I asked him about the benefit the night before and he said, "You know, it's the fund raising biz'nis. I sit there and shake hands with 200 thousand people and they stick the money in
their pocket. But you know, what else can you do. The government ain't gonna pay for these things... ...you gonna hold your breath and wait for Ronald Reagan to send you a check?" I asked Frank if he would be backstage during the performance and he said that Jean-Louis told him to stand out in the hall 'cause it sounds good out there. Then he said, "It makes me nervous to go out into the audience. It gives me an uneasy feeling..." He explained that that was mostly due to the wrong notes played by the performers. He said there's no way to avoid it in live situations and went on to say, "I play wrong notes when I go on stage. It makes my teeth grind!" He told us about the new album, a double, which includes: In France, Truck Driver Divorce, Stevie's Spanking (studio version w/Dweezil on guitar), Baby Take Your Teeth Out, Frogs With Dirty Little Lips, and a new video called 'Be In My Video.' He said he was trying to get John Carpenter to direct it. He said it had every cliché that every video on MTV has and sounded quite excited about it. We told him about the aforementioned KPFA radio special that was incorrectly advertised and when Fred asked him what we missed FZ said, "You missed a lot!" Frank said the 7 record box set (to be marketed by MCA ?) of digitally remastered Verve albums should be available soon. I asked him if he was going to be doing anymore radio interviews. He said no, but that he was going to do 2 TV interviews, one of which was Entertainment Tonight to be aired the following Monday. We talked for a little while longer until Frank had to get going.
As we sat in our 3rd row seats we could see the mobile TV crew hustling around the theater. Soon after the music began with pieces by Gabrieli and Mozart. Then it was FZ's Dupree's Paradise – the approximate 30 players performed the piece with striking dynamics and the acoustics in the hall were great. Aside from the basic theme of Dupree's I couldn't tell if (and how many) any mistakes were made. After the 9-minute piece ended an astounding ovation began. Frank took the stage for a very brief bow. After which, the musicians stayed on stage. The conductor, LeRoux, returned to center stage and explained that it was a very difficult piece to enjoy and understand when listening to it the first time I propose we play it again. This received the loudest ovation of the evening. The 2nd time through it seemed more lively and energetic. After this 2nd time the cheers began and once again Frank returned to the stage, this time being followed by the TV camera crew. He smiled and waved to the audience, shook hands with Jean-Louis, and a moment later – waved goodbye and left the stage. Altogether an outstanding performance and an extremely exciting evening – but the weekend wasn't over yet!
Sunday, the 20th, Palace Of Fine Arts Exploratorium: The aging giant 200 ft. pillars stood up against the sinking San Francisco sun as the Exploratorium lobby filled with Zappalectuals – each one trying to top the other in how much Zappa-info they knew, but none knew what goodies FZ had in store for us. Once inside the near sold-out Exploratorium I could see that the stage was set up like a talk show. And, after host Charles Amirkhanian and Frank took the stage that was just what it turned out to be. There were some questions from the audience (most of which are old news to this article/issue) after which Frank asked the crowd ... "can we start the music now?" He explained each of what we were to hear and then pushed a button on his control box on the table by his seat and over a specially designed sound system came excerpts from many various styles of FZ's music (see full listing). While the first group of songs played, I glanced around the audience to see some of it falling asleep while others sat motionless, listening intently. After the final piece had ended the Exploratorium filled with applause awaking the few sleepy heads into a hand clapping stupor.
The host then asked Frank to tell us about the Synclavier. Trying not to get real technical he explained that it was an expensive computer with programs that cost $800 each and will do some strange things. When asked about Mo 'n' Herb's Vacation FZ said, "I decided to re-mix all the stuff on the London Symphony album." He went into detailed explanation on this and then answered audience questions about the other pieces. One girl said she was doing a bronze bust of FZ and asked if she could measure his head sometime. So Frank invited her up on stage to do it (measure his head) while he was talking. She measured his head with calipers during While You Were Out (from the Shut-Up LP). He said the reason he was playing us this piece was because he was asked by an ensemble in L.A. called The Ear Unit to do an arrangement of it for them so that they could play it at a Monday Evening Concert about two weeks before. Frank played the piece and then went on to tell the audience the story behind the Ear Unit's 'faking it' (see separate article to follow this one).
After intermission, Frank told us the story of Francesco Zappa then played 3 pieces of his work (which sounded nice, but not like the Zappa we know). Then they brought out the editor for the 'pink section' of the S.F. Chronicle, who, 15 years ago, used to be an actor. He would perform all the roles in Frank's play – the almost fictional life of an obscure Italian composer. This was fantastic! Francesco is an oppressed musician who has to kiss ass to some English lord. Then he meets some Jewish guy and sees into the future – a descendant of his (Frank) who composes in the 20th century. It goes on for about 30 minutes and is hysterical. Several characters from eras past (Rantz, the Phlorescent Leech and Eddie and The Mystery Burger) are mentioned.
After the reading the audience was treated to another great surprise: one of the puppets (the tennis instructor from Bob In Dacron) in the ballet to be performed at Zellerbach danced to He's So Gay. It was the funniest thing I ever saw – even Frank was cracking up. Next, Frank took some more questions from the audience and spoke of his new book Christmas In New Jersey (available by mail order). He played a side from Them Or Us and then announced that the whole thing would be aired on KPFA radio sometime in June or July. There was also a Channel 4 camera crew there filming the whole thing.
Altogether a fascinating and enlightening 3 hours and well worth the $5 – a perfect way to end an already incredible weekend. Wish every week could be like this. (Editor's note: a similar type event is said to be taking place somewhere in L.A. on June 25th. Check local listings for complete details – and listen to KPFA).
---
SPEAKING OF MUSIC
WITH FRANK ZAPPA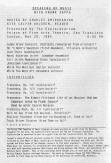 HOSTED BY CHARLES AMIRKHANIAN
WITH CALVIN AHLGREN, READER
Presented by The Exploratorium
Palace of Fine Arts Theatre, San Francisco
Sunday, May 20, 1984 8:00 PM
Lumpy Gravy (excerpt, digitally remastered from original)*
Mo 'n Herb's Vacation (first movement, 112-piece orchestra)
Love Story (synclavier)*
Naval Aviation in Art (chamber ensemble)
Girl in the Magnesium Dress (synclavier)*
Jonestown (synclavier)*
While You Were Out (guitar version)
While You Were Art (ensemble version)
INTERMISSION
Francesco, Op. 1/6 (synclavier)*
Francesco, Op. 1/11 (synclavier)*
Francesco, Op. 1/2 (synclavier)*
Francesco: The Almost Fictional Life of an Obscure Italian
Composer (play by Frank Zappa)*
Read by actor Calvin Ahlgren
Francesco Rock, Op. 1/1 (synclavier)*
He's So Gay (from the musical, Thingfish)*
Sinister Footwear (from the forthcoming LP, Them or Us)*
Truck Driver Divorce (from Them or Us)*
* world premiere
The Spring 1984 Speaking of Music programs are mode possible by grants from the National Endowment for the Arts, The California Arts Council and the San Francisco Foundation. The Exploratorium is sponsored 1n part by a grant from the Son Francisco Hotel Tax Fund.
Tonight's state-of-the-art playback system for Frank Zappa's digital tapes has generously been furnished by John Meyer of Meyer Sound Labs of Berkeley (which designed and built this UPA 650 system) and Ultra Sound of San Rafael, dealers in fine audio equipment. Thanks also to Andy Neddermeyer (no relation) for providing the Sony digital playback unit. Frank Zappa's master tapes were made with recording engineer Mark Pinske and mixing engineer Bob Stone. All selections (P) Munchkin Music (ASCAP). Most of the recordings heard tonight are, or soon will be, available on Barking Pumpkin Records and Angel Records. The music by Francesco Zappa (fl 1763-1788) was provided to Frank Zappa by the Music Library of the University of California, Berkeley.
---
As was mentioned in the previous article, The California E.A.R. Unit asked FZ to write them an arrangement of While You Were Out. FZ complied and because the guy he spoke to was named Art, he titled the piece While You Were Art. FZ had made them practice cassettes on his Synclavier – all they had to do was learn how to play it. They couldn't and time ran out. The night of the show FZ suggested that they play the tape and mime it. They agreed. But the high quality performance tape that FZ had brought along couldn't be used, so they had to go with the practice cassette. They did – and no one knew they were faking it. Not even the reporters who gave the piece bad reviews in the next day's paper. The band later wished they hadn't done it (probably after the truth came out). Zappa was quoted in the 5/21/84 LA Times as saying, "I provided the serious music equivalent of MTV with a vengeance. I combined studio perfection with a visual presentation of what the music means. The problem is there's no entertainment in serious music. What would be best is if the musicians, performing to a tape, could be dancers so they could move around the stage. The main goal of most performers anyway is how good they will look."
Read by OCR software. If you spot errors, let me know afka (at) afka.net