Conversation With Artie Tripp
By Jeff Slyker
Mother People, #14, December 1982
---
In a phone conversation (interview) with Art Tripp, we got to talk about many facets of his days with FZ, Captain Beefheart, and current events. Art was nice to talk to, had a great deal of respect for FZ & CB, and said he didn't mind if our conversation was printed in Mother People.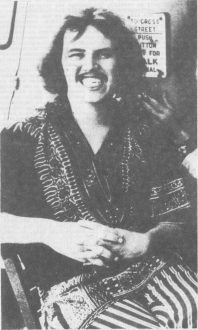 First off, Art said he was studying to be a chiropractor (a person skilled in the treatment of disease by manipulation of the joints of the body; spinal column) and that he hasn't picked up his sticks for 3 years now. He still has some equipment and may do some things on an amateur level, just fooling around, but has no plans to get back into music on a serious level because that's definitely no way of making a living. He has turned down the Grandmothers on several occasions, including Roxy dates, etc. He said that some time ago Roy Estrada and a few of the old band members came by with some films of the MOI. He said he doesn't receive any royalties from the albums he was on and didn't think that any of the other original MOI members did either, but that it didn't matter much to him.
Ruben & The Jets was the first LP he played on. Dick Kunc had set him up with Zappa. He came in and laid down the percussion track. Everything else was already recorded at that time. He said that an accountant handling things for Bizarre Records took off with approximately a million dollars and he was quite surprised because he didn't know the business was worth that much. He also said he wasn't happy with Herb Cohen as a manager.
Asked why he was called Artie 'with the green mustache' Tripp, he said that for awhile he was painting his mustache green, even through the Beefheart days. The promo photo that went into the United Mutations press kit was taken outside the Shrine Exposition Hall in L.A.
When asked whether FZ was sincere about being 'anti-drugs', Artie replied that FZ was totally against drugs; that he didn't use drugs at anytime and though he was against other members of the band using drugs, there wasn't that much he could do about it. When asked about Ray Collins' 'on and off' existence at the end of the original MOI era, he said that Ray Collins had to leave the band once because he caught hepatitis, and that he was thinking of quitting anyway. Ray is currently living outside the Pomona area, writing songs and trying to put together a band. When asked about Wild Man Fisher, Art replied that he wasn't sure if Fisher was a strange guy or whether he was really sincere on all that stuff, he wasn't that sure. Art said he was really sorry he did that LP because he made a fool out of Wild Man Fisher. As for the GTO's – they sometimes played with the MOI and Wild Man Fisher.
When asked about what kind of collection of old MOI stuff he had, he said that he just had bits and pieces, that he lost most of it and that his mother had quite an extensive collection. He said he really enjoyed those days of the MOI to the fullest extent, both musically and creatively.
He said about the Beefheart, 'Unconditionally Guaranteed' LP that while they were in the studio doing that LP, that he was really happy, the band was full of energy, great session, and that CB was trying to go commercial. Though he felt that some of Beefheart's stuff wouldn't catch on, not top 40, but that there would be some market for it. He was very happy with the material that was recorded for those sessions – the whole band was. But that when it was mixed down, he said, it was terrible; that he, as well as the other band members, were embarrassed by it. He said that in his eyes, Beefheart was a very creative man, all as a sculpture, painter and musician. That a lot of times CB is a very hard man to work with because he can't convey his ideas very well. Because CB didn't know music, they would do the music and the Captain would lay a poem over it.
Read by OCR software. If you spot errors, let me know afka (at) afka.net