You don't always eat if you only play for fun
By Richard Green
New Musical Express, February 27, 1971
---
You don't always eat if you only play for fun
says Mother's drummer Aynsley Dunbar to Richard Green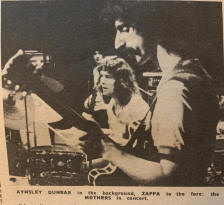 THE management of the Royal Albert Hall may deem much of Frank Zappa's work to be obscene and a great many people obviously agree with that description, but these are not the type of audiences that Zappa seeks and his admirers ("fans" is surely too teeenybop a word to use in relation to his music) can often learn a good deal from him and the Mothers Of Invention.
While Frank and most of the group flew back to Los Angeles after the London concert fiasco, the British drummer, Aynsley Dunbar, stayed behind at his Essex home to rest before the band starts work again.
Censorship
"I don't think anything should be censored if it's about what's going on in life," Aynsley commented when I raised the subject of the ban with him. "The Albert Hall is behind the times. The woman who decided to ban us is a very weird person, she picked out words that are in everyday use and said we couldn't use them there."
If Aynsley feels that what Zappa does isn't obscene, what contribution does he think the band makes to modern music? Where does he think the band stands?
"They're in a completely different thing because they're playing jazz-classical-rock and not many people are doing that," he explained. "You just have to put Frank out on his own. He is helping people to listen to other aspects of music they've never heard.
"Frank's just taken the plunge. If people don't appreciate it, they don't, so he'll keep on doing it until they do. His attitude to writing is a classical and jazz thing. I've still got a jazz inclination so I fitted in. I could play with Frank straight away."
I remembered Frank telling me about a year ago just how impressed he had been the first time he heard Aynsley play and I asked the drummer how his joining the band came about.
"I met Frank at the BIG Festival in Brussels in 1969," Aynsley replied. "He was compering, linking the groups, but it was so cold that he wanted to do something. He wanted to sit in with us (Aynsley's Retaliation group) and we did about two numbers together. We chatted about a few things in the beer tent later when we left for another gig.
"When he was in London he went down to the Speakeasy looking for me and left a message that he wanted to see me and when I rang him he offered me the job of playing with him. I turned it down because I had just formed Blue Whale but I thought about it and a week later accepted. It was only after very careful consideration and thought that I decided to join."
Involved
But whereas Aynsley went to America for one reason, he found himself getting involved in something much bigger.
He went on : "I went there to join Hot Rats, which was a small group, to do an album. When I got there he started talking to me about doing a concert. He wasn't going to use me at first because of what the old Mothers might have thought, they were pretty annoyed about an English drummer coming over. From then on he sort of reformed the Mothers."
How does Aynsley evaluate his contribution to the band?
"Most of the time I just contribute to the overall playing," he replied. "I replaced two drummers — Jimmy Carl Black and Billy Mundi — and it's involved. You've got to be able to represent what they did between them. It wasn't a difficult thing for me to do, that's why I was chosen for the job.
"We work for about three months of the year on the go and have two months when we do a lot of sessions. Frank does a lot of films which is useful for filling the time. He's just finished '200 Motels' and he's got another one up his sleeve. "I prefer to go out and earn money out of what I'm doing and if I have to go out and play with a name I will. Playing with a jazz group is fun but there's not a lot of money in it and I've got to think of living. "I can't go on the dole like the average working man can. It's a business and it's not just for the fun of playing that you live."
Read by OCR software. If you spot errors, let me know afka (at) afka.net