Frank Zappa
By Chris Hodenfield
Strange Days, September 11-25, 1970
---
He said he'd be back.
Frank Zappa disbanded the Mothers of Invention in August of 1969. The reasons were almost typical Zappa: lack of acceptance, lack of understanding, lack of love.
Critics called him either phony or ... or Messiah. His admirers would say, "It's a profound statement of now." Someone else, "That's weird-ass stuff."
Frankie's just a guy from Cucamonga, California. Straight from the land of cheeseburgers and beer, rumbles in the parking lot and going steady. And now ... now he's in that wicked world of scented fleshpots, Plastercasters, the GTOs.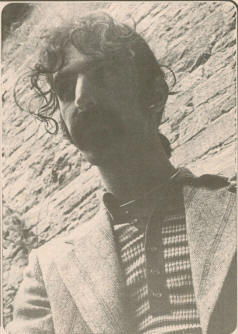 The Story:
Zappa has always masterminded illogical yet progressive activities. Lewd yet refined. Anarchistic yet structured. From the beginning he was nuts. His musical roots began in San Diego, California, in a mixed R 'n' B band, the Blackouts. (So named because in those hot desert areas you'd sit around on Saturday night and swill the local drink, peppermint schnappes and coke, until you'd BLACK OUT, daddio. )
Later, when gooey teenager-in-love music was popular. Zappa was playing back-in-the-alley blues by Howlin' Wolf and Lightnin' Sam, in a guitar-bass-drums trio, the Ramblers. When gear-fab English bands were all the rage, Zappa organized Captain Glasspack and his Magic Mufflers. Definitely not very English. And years after, by 1968, when rock bands realized awareness and ultimate truths and a band called Cream was committing suicide, Frank Zappa gave us Reuben Sano and his band, the Jets.
Doo wah wah, hmmm yah Deseri.
But it didn't matter. In America, says Zappa, "our records were categorically thrown into the trash can by the so-called Underground radio stations, who'd then play as many blues records as they could." The English welcomed the Mothers, (which would be expected for anyone that presented himself to them with such audacious acumen and obvious star qualities), but the response wasn't overwhelming.
More response was given to Zappa's photogenic qualities. His bathroom poster is better known than his music. Nobody pretended to understand. Nobody, that is, except for the analytical and deeper-meaning-seeking Dutch and German. Hot Rats was No. 1 in Holland, over Abbey Road.
Zappa retired to record solo, but he left the lingering threat that he might, just might, if the public properly assimilated his work, reform the band.
The result was Hot Rats, his "rock" album. And now he's got his new band, and even though they play mostly old Mothers' material, it's more acceptable, more palatable, easier to understand. There are certain shadings of soopergroup thrown in (a few Turtles, an ex-Mayall, a few LA jazz sidemen). "The reception to this band has been much better than to any of the Mothers combinations in the past," Zappa says. "Apparently it's fun to watch, easy to listen to and has lots of drive. This you can lay in the lap of Mister Aynsley Dunbar, who has done wonders for the rhythm section."
Dunbar, the ex-John Mayall, ex-Retaliation drummer, is the best thing ever to happen to the Mothers. The difference between him and the former drummers is immediate and obvious on upcoming Chunga's Revenge. Tracks with sessionman Johnny Garrick plod along, he plays notes on the drums. Dunbar pushes the band, so even the winding windy instrumental sections keep time, move at a pace. He is now studying with the Los Angeles Philharmonic percussionist, but, one hopes, that won't change him into playing that old Mothers' style (complex, occasionally fruity, guilty of obfuscation). The "new" style (dancing WEIRD ASS), is the steamers.
SOUNDS OF EROS
The derivations of any great rock band is that of a dance band. CSN&Y, for instance, are good, but only occasionally moving. You'd rather have the Stones than a fuzz-blues band. The core of the Mothers were, besides Zappa and his teenage combos, a soul band from the hot rod capital of California.
POMONA!
(It's a rough town ... there's a boulevard that cuts down the middle ... guys choose up races at the stop lights drag for six-packs of beer.) In 1963, at the age of 22, Frank Zappa wandered into the Paradise Club to see the Soul Giants. Jimmy Carl Black, Ray Collins and Roy Estrada were in the band, said Hey, we need a substitute guitarist. The regular guitarist, Dave Coronado, didn't dig that too much. Zappa joined and suggested his regular material like, say, "Who Are the Brain Police." The band said Yeah. Coronado said Sheeit Man and split. (" I think he's a mechanic in La Puente now," says Frankie.)
Zappa, about that time, had just gotten out of jail on a "lewd and lascivious conduct" charge for making a lewd and lascivious recording of the sounds of eros. Ostensibly this was for a party of middle-aged geezers. In reality, it was the Cucamonga Vice Squad laying for him.
Zappa was the proprietor of a recording studio. Zappa had been making a film about an old buddy from high school, "Captain Beefheart Meets the Grunt People." But now, now he'd had the Mothers of Invention! Now he'll show the world.
The Mothers, like penicillin, LSD, and athletes foot, were the products of a culture. America is the only country that could have produced them. Los Angeles is the only city that could ferment them. Its chrome, used car lots, a million sex-dope-fiend kids, all children of parents who came to Southern California for fast cash and Hollywood glamour. And THERE, fighting his way up from the high school parking lots, the Bill Haley movies, eventually even the ad agencies, came Frank Zappa! The breeder of a whole generation of weird-ass kicks and thrills.
MAXI-DEPRAVITIES
Zappa's band originated a number of things. They were the first to use amplified woodwinds, he was the first to record with a wah-wah pedal (on We're Only In It For the Money), and the double-fold "concept album" began with Freak Out. What it boiled down to, however, was the Super Production. (Up until then, the classiest you could get was a Byrds' album or one of those stereophonic demonstration records.) Further, what started out as mini lewdities has now turned out to be maxi-depravities.
The Story: As the Mothers began their campaign in the summer of 1966, the established media began their "bad rapping the freak movement". Life magazine was putting day-glo acid heads on the cover and running lurid stories about acid heads jumping out their dormitory windows. The teenage gigs disappeared. The Mothers moved to New York and opened a five-month-long run at the Garrick Theatre in Greenwich Village. This was before the "hippy tribal love musical" hit Broadway. And although another Village band of crud-fiends, the Fugs, had been staging a similar show, The Mothers moved in and stole the hearts of the derelict and insane. Calling their show, "Absolutely Free," the theatre was, says Zappa, " devastated by cherry bombs, mouldering vegetables, whipped cream, stuffed giraffes and depraved plastic frogs ... the whole range of expresive Americans."
And now. Now it's the Plastercasters. Two girls who, in a moving and compelling story, worked their way up from fat-and-uglihood to star groupie-dom by making plaster mouldings of a very important appendage of rock and roll stars' anatomies. Frank Zappa is now their official sponsor, father-figure, guidance counsellor and Demented Bishop. A book of their diaries is on the way. Universal Pictures wants the movie rights. Zappa wants to direct.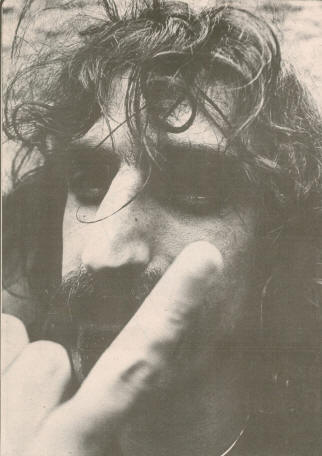 There are 27 castings, now bronzed and mounted on wooden pedestals with brass plaques announcing the names of the subjects. They are going on exhibition at the La Topanga art gallery in Los Angeles. Admission is fifty dollars (20) and dress is black tie-formal. All proceeds go to the Los Angeles Free Medical clinic, which specializes in veedee treatment. In turn now, says Frank, "this'll keep the groupies clean."
(What at least one person wants to know is how did the man at the bronze shop take it when the sweet-looking girl brought in the casts to be refinished. Bet you that pricked his consciousness.)
A band steeped in filth and degeneracy. And all guided by a man with the ad man's knowledge of freakiness (he once did a stint as the advertising director for a greeting card company) and an incredibly calculating mind. Zappa's use of the technical side of music and recording drives people crazy, sure. With those people who really didn't care for his music, he at least made a hit with his gaudy packages. Crazy pix and groovy kix of Zappa the Photogenic, then all slung together in a gaseous package with names amalgamated by no apparent reason. "Peaches en Regalia " "Chunga's Revenge ". Maybe it's a satire on the present overdone name-the-band game, but maybe it's a continuation. (His two children are named Moon Unit and Dweezil. His old drummer, Billy Mundi, not to be outdone, named his daughter, Thunder Canary.)
The new band, however, is a band of handsome devils. The overall packaging is cleaner. More pop. Enhanced primarily by Howard [Kaylan] and Mark Volman (broken from the Turtles pending a 160,000 dollar lawsuit over back royalties). Their vocals' are considerably better than the old Mothers who, at best, sang camp.
Zappa, with William Burroughs, Pablo Casals and Ray Charles, are among those walking the earth today "conceivably possessed by genius." There's thematic structuring, there's a profound usage of musical theory. Too bad that nobody understood. And why not? Who would understand? Weird ass music! Today there are twelve unreleased Mothers' albums in the can, all with improbable names like Soup and Old Trousers. Plus early tapes of the first rehearsals and tidbits of the past. But how to release all this? A Mothers-of-the-Month Club?
LAFFS OF R&R
Zappa has reached the right medium in combining the seriousness of jazz with light-heartedness and laffs of rock and roll, and then again with the seriousness of classical music. Every note of his music is plotted out on music sheets, theories of which he taught himself. His recent "jammings" have ranged from LA Philharmonic orchestra with Zubin Mehta to French jazz violinist, Jean-Luc Ponty. (An indication: he says he likes Miles Davis' Nefertiti, which was "good because it was free, but not crazed." Which, further, is a clue to Zappa. Free but not crazed. Weird ass, but in the proper structure.)
His next big Cinemascope Rajah project is an orchestra symphony, 200 Motels. He scored the entire thing for a 40-piece orchestra, and Holland television will premier it this autumn. The whole scene is amazing. The government station is handing over the entire studios, narrators, dancers, editing equipment, sets, and chorus girls, to Zappa to present this, which, in essence, is a diary of a band. (Get it? 200 Motels?)
FURTHER, Zappa notes, in Rotterdam, the city is negotiating to erect a special house where couples that meet on the street, but don't have a place to quench their lust, can go have a tryst. "That's progressive thinking!" says Zappa.
FURTHER, 12 Dutch children sang " Brown Shoes Don't Make It," translated into Dutch, for him. Zappa reports that his mind was exceedingly blown.
That's Zappa the eldest kid in the Sicilian family. Zappa the Reuben Sano. Zappa sitting on the can. Zappa the guitarist who says that the only thing he ever heard that sounds like his guitar is Greek [bouzouki] music, ("That's Music of Greece, on Polydor.")
That's Zappa, the weird astral dance musician.
Read by OCR software. If you spot errors, let me know afka (at) afka.net