Will Brum Ever Be The Same Again
By Bob Dawbarn
---
The Mothers Of Invention start their first full British tour in Birmingham tomorrow (Friday). [1]
Whether the Mothers or Birmingham will ever be the same again after the experience, we shall just have to wait and see.
There have been so many attempts to explain what the Mothers are about – including several by their leader and mastermind Frank Zappa – and each has mostly added to the confusion.
Like the man said about jazz: "If you have to ask you'll never know."
The Mothers are fine musicians and very funny. But their main function is to point up the lunacies of the so-called normal world.
The trouble is that their targets are so diffuse and constantly shifting that it becomes dangerous to tie labels on them, like revolutionaries, anarchists, satirists and the rest.
They are, however, consistent in their championing of the individual against the conformist, pre-packed, machine-ruled way of life of society in the 1960s.
And that means they are against the conforming drop-out as much as the politician dripping platitudes.
Zappa himself has been the subject of much purple prose from journalists trying to let their readers into the secret.
He's been called "a spindly-framed, sharp-nosed gamester whose appearance suggests some of the more sinister aspects of Edgar Allen Poe, John Carradine and Rasputin."
Or "an El Greco portrait after six months with those pencil-happy subway artists who are big on filling in moustaches, beards and lots of flowing hair."
All agree, however, that in person, Zappa is a man of persuasive charm and, it is rumoured, holds doors open for ladies.
He also has a penetrating wit which doesn't always transfer too well to print.
On the transatlantic phone this week – he called at exactly the time he said he would – Zappa announced one addition for the Mothers on their tour, trumpeter Buzz Gardner who is a brother of the group's tenor saxist, Bunk Gardner.
I asked if Zappa had seen Tony Palmer's All My Loving TV film, in which he is interviewed, and told him that the National Viewers And Listeners' Association was taking legal action against BBC-TV for showing it.
Did they, I wondered, have similar censorship problems in the States.
He said he hadn't seen the film but warmed up on TV censorship.
"Look, you guys over there are so advanced in the shape of things you can catch on TV. Believe me, you would die if you had to sit in front of an American TV set.
"When I was last in England I watched a special on nudism in Manchester. I thought it was excellent but we could never have seen it on TV in the United States. Americans are too obsessed with people with their clothes off to be able to take it."
Were we ever likely to see nude Mothers on British stage?
"I've never felt that sort of advertising was necessary," said Zappa. "Mind you, I'm always available after the show if that's what they want."
He reported that his record label, Bizarre, is doing "pretty well."
"We now have a subsidiary called Straight. Who's on it? Captain Beefheart for one. He's done a two record set which I think is excellent. We also have our new group, Alice Cooper, and we are putting out a single from their album."
I said how much I had enjoyed the Mothers' Ruben & The Jets album. If you really know the old rock of the 1950s it is hilariously funny. How many people who just heard it on the radio had taken it seriously? Obviously no one who didn't have a great affection for early rock music could have made the LP.
Zappa agreed: "I believe you have the equivalent of rockers, though I'm not sure what you call them over there. Well, mentally most of the people in the group are rockers.
As for people taking it for real, there's a place in the U.S., a retarded area, called Philadelphia. A deejay played the album there and didn't connect it with the Mothers. He received all those letters from kids saying Ruben and the Jets were the greatest thing since Danny and the Juniors.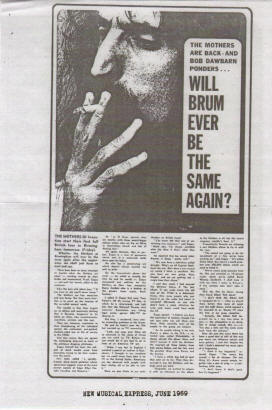 <!– MSComment="autothumbnail" xthumbnail-orig-image="file:///H:/ZB on upstairs/images/Articles/1969-05_unknown.jpg" –>"I have a whole bag of mail they sent on to me. Then they discovered it was the Mothers, and nobody cared any more."
"Originally, we wanted to release it with no reference on the album to the Mothers at all, but the record company wouldn't have it."
Transatlantic Records are releasing a new Mothers album to tie it with the tour.
"The record was going to be the soundtrack of a film we've been working on," said Zappa. "It's called Uncle Meat, but there's a small problem over 300,000 dollars which we need to finish it.
"We've taken some excerpts from the film and compiled an 18-minute trailer which we've called Burnt Weenie Sandwich. I shall have it with me when I come to Britain – if the customs men didn't take it away."
Will the film be shown during their Royal Albert Hall show?
"I don't think the Albert Hall is equipped for it – when we played there before they were all upset over the light shows, which seemed a bit retarded to us. Maybe I'll show the film at our press reception.
"Actually, the Albert Hall impressed me as a very nice place to play – the atmosphere is so warm. But it always sounds like s––-t. You play a note and five notes came back from the balcony."
Over the past few years there has been a good deal of talk of the way pop music can influence society and even politics. I said that despite the talk I hadn't detected too many signs of it happening.
"I think it has happened," reported Zappa. "The music has caused a lot of changes. For one thing it's draws young people together into a sort of army – a conforming little army."
"I don't know if that's good, but it's happened."
---
1. John Harrison: "Note, Melody Maker (and other mags like NME) usually hit the streets every Thursday, with a publication of Saturday. So this issue dated May 31 would have hit the street on Thursday, May 29, a day before MOI British tour started in Birmingham."