Boston Globe Jazz Festival
By Alan Heineman
---
War Memorial Auditorium, Boston, Mass.
Kudos to George Wein. The fourth Boston Globe Festival offered only one outstanding success in its three concerts (Friday and Saturday nights; Saturday afternoon) [1], but the other two were by no means dull. More importantly, Wein wholly reversed the trend of the first three festivals.
The series had presented safe box office draws almost exclusively – groups that were virtually never in the vanguard of creativity. There were a few concessions to fiscal security this year (Brubeck with Gerry Mulligan, Hugh Masekela) but the presence of Roland Kirk, Sun Ra, and the Mothers of Invention was eloquent testimony to Wein's realization that preceding festivals had been less than electrifying. Both evening concerts were sold out, and the afternoon affair was very well attended.
Let's save the Friday concert for last, to simulate partly the climactic effect that evening produced. The Saturday afternoon performance featured Wein's Newport All-Stars, with Mulligan questing. The All-Stars (Ruby Braff, cornet; Red Norvo, vibraharp; Wein, piano; Barney Kessel, guitar; Larry Ridley, bass; Don Lamond, drums) were slightly more involved with group interplay than they had been the previous evenings; Lamond was a great deal surer, and Mulligan seemed greatly relieved to be freed from the Brubeckian straitjacket, but nothing really happened with individual solos.
The other band at the matinee was Gene DiStasio's Brass Menagerie. The musicians, save trombonist DiStasio, are very young, and the tunes and arrangements are contemporary. The group is attempting a fusion of jazz and rock. Unfortunately, the instrumentation (six horns plus guitars and rhythm) militates against any real faithfulness to rock. Furthermore, the pieces selected by the Menagerie are not hard rock (they do Jim Webb and recent Beatles things mostly – very little r&b). While drummer Peter Donald and guitarist Michael Goodrick and John Abercrombie play with bite and force, the charts are closer to fortissimo swing that rock.
The Menagerie's ensemble playing is expert, and when they build over several choruses, the band generates considerable power. However, the solo work is derivative, except for DiStasio himself and Abercrombie. Reedman Ray Pizzi, who carries a lot of the solo burden, has not yet discovered an individual voice. The band has youth, enthusiasm and adventurousness, however.
The Saturday lineup promised much – Masekela, Nina Simone, B.B. King and Sun Ra. The promise went unfulfilled, It is difficult to appraise Masekela properly. He is a tremendously engaging and appealing personality, and says all the right socio-political things between numbers. Sadly, the numbers intervene. His vocals and trumpet playing are of a piece: heavy on passion, limited range, sloppy technique and grating tone. His trumpet solo on the Association's Along Comes Mary was typical: pyrotechnics with no substance. He hauled out his favorite gimmicks (the Lee Morgan flutter, the downward-smeared trailoff to end a phrase), and he labored them all night.
Bassist Henry Franklin played what turned out to be the best solo of the set on this tune.
The trumpeter's African vocals were considerably superior to those in English, although one doesn't really know what the valid criteria are. One in particular was most moving, and he enriched it with a good, brief trumpet solo that built to a crescendo and then diminished suddenly but logically. It was about the only tune on which Masekela varied his dynamic approach.
Miss Simone's portion of the evening, while enormously appreciated by the audience, was musically wildly erratic. She's doing message material almost exclusively these days, and what she gains dramatically she loses in terms of variety. Still, some of her vocals were stunning. She opened with The Times They Are A-Changin', taken at a slower tempo than its composer used, which made the apocalyptic vision of the song that much more forceful.
The second tune was sheer joy. Called The Morning of My Life, it was performed with an infectious gospel-meeting rock beat; it was an invitation to participate in digging life, and the message came through. After the applause, Miss Simone recapitulated the motif sadly, with some minor chording, and suddenly the song took on another dimension – pensive, second-thoughtish.
Several less impressive numbers followed, including Compensation, a poem by Paul Lawrence Dunbar set to music. She also did Dylan's I Shall Be Released, which shouldn't have been, and a rather frenetic and unconvincing gospel thing, Save Me. She proceeded to save herself with her medley of Ain't Got No and I Got Life, from Hair, which was kicky; a very free interpretation of the Beatles' Revolution, with some improvised lyrics a good deal harsher than those of Lennon-McCartney, and Leonard Cohen's Suzanne.
B.B. King had reportedly been sick the week before his Boston performance. That would partly explain the matter-of-factness of his set. Even when he's not trying, he's still king of the blues, but it was mostly warm familiarity, the satisfaction of a preordained ritual, that was offered. Lots of posturing, hands on hips, falsetto recitatives, artificially soulful vocal climaxes, and like that. The several choruses of guitar work before the slickest vocal, How Blue Can You Get, were worth the price of admission, though. Tenorist Lee Galling and trumpeter Pat Williams added to the cataclysm. Archetypal, protean rhythm and blues.
Sun Ra's set was a thundering (in both senses) bore – this despite the visual pageantry. Neo-Afro costumes; a revolving sphere of section glass spewing light over the auditorium; a movie screen with pictures projected on it; at either side of the stage an opaque, rectangular-solid light screen with colored patterns flowing; the Arkestra members improvising choreography all over the stage and in the aisles, parading back and fourth holding signs, paintings, and Lord knows what else, and blowing their heads off.
Unhappily, what came out was not music. Sun Ra's recorded material, at its best, is densely textured, complex and serious. This was anarchy, and the words intermittently chanted were ludicrous. The whole set was one long ... what? Space Suite, one supposes. Occasionally, the leader's deafeningly amplified organ began to pull the chaos into something of a pattern. At several points, almost everybody was playing percussion instruments simultaneously, and that was interesting. But when all the horns were off in their own worlds, ennui resulted, especially since the instruments weren't individually miked. The crowd was very receptive and seemed to welcome the mixed media presentation, so there was a golden opportunity to demonstrate what's happening with new music, but Sun Ra blew it. The suite, or whatever, ended with a male vocalist doing what sounded like a straight version of On A Clear Day; if it was a joke, it bombed, and if not, it was all the more embarrassing.
Friday night was a different story. The All-Stars led off. Except for a couple of good Norvo phrases (on Just You, Just Me and Sunday), some interesting Kessel spots (on Sunday, which he chorded well, and Days of Wine and Roses, where he slurred chords a la Wes), and great support by Ridley throughout, the set was tepid.
Then Kirk broke it up. Backed by pianist Ron Burton, bassist Vernon Martin and drummer Jimmy Hoppes (and occasionally by Joe Texador on tambourine), the multi-talented reedman began the set by lashing his huge gong furiously, then launched into a shape-shifting song that began with a boppish tenor and tenorstritch excursion, then (after some atonal arco bass by Martin) became a raunchy New Orleans blues with Kirk on clarinet, r&b (Kirk on tenor), then a relatively calm stritch-manzello interlude, then a ritard into Shadow of Your Smile on stritch and finally an accelerated tag. Great horn work throughout, save a showboating circular breathing exhibition on clarinet midway through – it must be hard not to try to grab a big crowd with whatever tricks come to hand, but Kirk doesn't need them. The rhythm section was fine, too. Burton is an inventive, strong pianist, and Hoppes gets amazing tonal variety from his curiously abbreviated kit (bass drum, snare, hi-hat, ride and crash cymbals, and that's all).
Kirk's other major foray began with a tenor-stritch statement of I Say a Little Prayer (with quote from the Warsaw Concerto, no less) and alternated improvisations on that theme with a three-horns-at once version of the Manteca riff. Burton soloed on Prayer, a surging, melodic few choruses with unusual rhythmic inversions.
The Brubeck quartet followed. Best thing about the set was the superbly empathetic support of Alan Dawson. Not much to empathize with; Brubeck was his usual heavy-handed, rhythmically stiff self, and Mulligan sounded woefully uncomfortable in this context.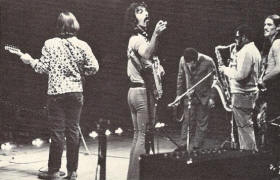 The next 45 minutes are quite literally indescribable. The Mothers of Invention are a nine-member band who make the East Village look like a Brooks Brothers showroom. Musically, they can play anything from early Basie to late '50s schlock-rock to concepts out of a Varèse-Cage-Stockhausen panorama. Can play them; each musician is highly gifted, and the Mothers are a tightly disciplined, responsive aggregation.
They started very free – electronic shrieks and whines, scale-running from hornmen Ian Underwood, Bunk Gardner and Jim Sherwood, and some falsetto sing-song by electric bassist Roy Estrada. They settled into a jazz framework with a riff similar to the Jazz Crusaders' Young Rabbits. Short solos by Don Preston on electric piano and [Buzz] Gardner on trumpet (using the false low range, like Rex Stewart on Lion of Judah) ... and then pandemonium broke loose as Kirk wandered out and jammed with them for the rest of the night. All stops were out; Kirk wailed, the Mothers dug it and responded with uncanny support. Free stuff, Kirk weaving in and out of the flow of sound patterns into which Frank Zappa directed his crew. Basic riffs by the reeds, a raunchy stripper blues with Kirk sounding as raspy and earthy as he ever has. Zappa instantly picking up Kirk's concepts and playing telepathic guitar counterpoint. Choreography: high-kicking, everybody on his knees, everybody on his back. Tune ends, crowd goes bananas, "More! More!" Okay: All Night Long. More of the same, only different. After this one, and a short, sardonic rendition of Louie Louie (with the lyrics of Plastic People), the audience was close to berserk. Wein had to close the curtains, turn up the house lights and beg them to leave, which they ultimately, happy-sadly did.
That particular set is lost forever, but Kirk and Zappa are crazy if they don't make a record together. The Mothers are capable of many other things – so is Kirk – but this was too much, and nobody with half an ear who heard it could ever again say that jazz and rock can't combine without damaging one of the idioms. An incredible, exhilarating, exhausting, exciting set.
On balance, then, the festival did well by its clientele.
---
1. The 4th Boston Globe Jazz Festival happened on January 31 - February 2, 1969. The "one outstanding success" was with Roland Kirk and Mothers Of Invention on Friday, January 31.
Read by OCR software. If you spot errors, let me know afka (at) afka.net