Ongaku Senka
音楽専科


Ongaku Senka
can be translated as "specialized course in music". This monthly magazine was founded in 1967 (?) and discontinued in 1987. The eponymous publisher is still active with other music-related magazines:
www.ongakusenkasha.co.jp
. (TAN Mitsugu)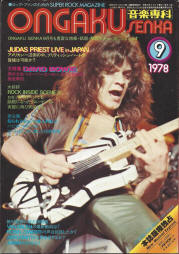 1978 September
Who is Frank Zappa?
By Wayne Manor, p 24

---
TAN Mitsugu:
Short FZ interview. (It might be an excerpt from Manor's interview that appeared on NME, July 22, 1978) The interview was conducted in a hotel room. Gail was present, saying "Please don't call me Mrs. Zappa. Call me Gail, because "Mrs. Zappa" is always used for his mother."

Since the English-Japanese translation is not very good, you can't fully understand some of the text. Anyway, I try to translate some FZ quotes (skipping the uncertain parts):

"Now I'm making a movie called Baby Snakes, which features a lot of celebrities. Everybody has a baby snake, and they have space, too. These two things are related each other."

"Humans are not almighty. It's just each person has a different ability. Sometimes I go to a bar and discover a musician. Adrian Belew, our rhythm guitar player, was found at a bar in Nashville. I asked his name, taking a note of his address, and a year later called him up and said "Come over to the audition". Everytime a new guy comes in, he's going to learn a lot of thing. My band is probably the best music school in the US. They're getting better while they're playing in this band."

"I have a brother who is selling textbooks. Another brother of mine is working at home. My sister was married but soon divorced, and then married again with a guy who used to be a basket ball player."
Source: slime.oofytv.set