Hitweek
Legendary Dutch underground music magazine. The first year was only available in Amsterdam ( 1965-1966) but the later issues also in other big Dutch cities. The was THE magazine for hippies, modsters and other long haired youngsters. Not like commercial magazines such as
Muziek Expres
or
Muziek Parade, Hitweek
was the magazine were you could find articles and pictures of obscure US, UK and Dutch bands such as The Outsiders, The Pink Floyd , Q65, The Creation, Lazy Bones, The Mothers, Velvet Underground + many many more.
Hitweek
was also famous because of the artwork , especially the years 1967-1969 had great psychedelic drawings and pictures.
Hitweek
can be compared to the UK underground magazine
IT
, but
Hitweek
had more colour and more psychedelic artwork. Many unique pictures! (drVinyl @ eBay)
In 1969 weekly
Hitweek
was renamed and continued as biweekly
Aloha
.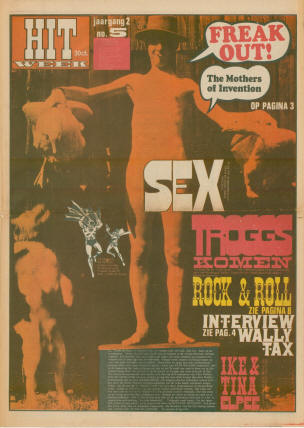 1966 October 21
Vol. 2 No. 5
Freak Out: The Mothers Of Invention
By Frits Boer, p 3
1966 December 2
Vol. 2 No. 11
Cover page has a "Freak Out" photo by Paul de Nooijer and announcement, that next week will be the Freak Out LP issued in the Netherlands.
---
"Deze Freak Out foto op de voorpagina is gemaakt door Paul de Nooijer die in LEENDE woont (Noord Brabant) en wel in de Dorpsstr. 10 (achter). Bedankt Paul (zie zijn portret hiernaast). De volgende week brengt de firma Polydor de elpee Freak Out van de Mothers Of Invention in ons land uit. Perse bestellen jongens. Dit is een belangrijke dubbelelpee. Volgende week meer. Paul is van plan meer van deze eksperimentele fotoos te brengen. We zijn benieuwd. We hoorden dat de managers van Les Baroques en de Maskers hun groepen verboden om samen met The Outsiders in een programma op te treden. Zeker te vies die jongens... De manager van de Outsiders (v.Setten) heeft week eens een schofterige streek uitgehaald. Via de pers heeft hij Tramac (relax) bedankt voor de getrooste moeite. We maken er geen woorden aan vuil. We zijn op een zafterdag eens een kijkje gaan nemen in het Sigma centrum. In plaats van 'n gonzende bijenkorf van aktiviteiten troffen we er een stuk of wat vermoeide figuren aan die wat kletsten ... en verder was het gebouw leeg. Nee, dan was het een stuk gezelliger in de TENT '67. De volgende week meer over deze fantastiese reizende beatshow waarin zelfs al ge Freak Out werd. Jullie hebben inmiddels wel gemerkt dat de HW redaktie alles in het werk heeft gesteld om de Freak Out op de radio te laten horen. Onze elpee is al zeker in 6 programma's geweest. Koop 'm als ie uitkomt. Een prettige (satanies gelach) sinterklaas jongens. (waarmee bedoeld jongens en meisjes)."
Source: slime.oofytv.set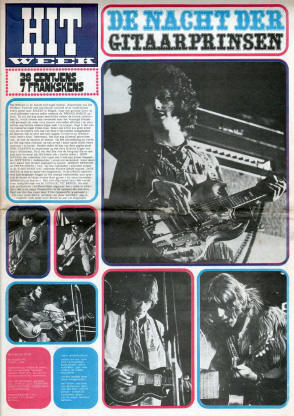 1967 September 1
Vol. 2 No. 50
Frank Zappa naar Nederland?
By Peter van de Waal & Herman Hamers, p 5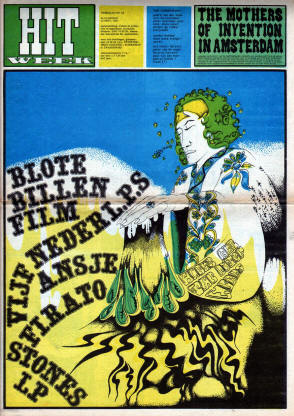 1967 September 15
Vol. 2 No. 52
The Mothers Of Invention in Amsterdam
p 1
---
Short ad on front page:
"Ondanks de boycot van de Amsterdamse overheid zal Nederland toch de meest sensationele popgroep van de laatste tijd in levende lijve kunnen meemaken Paul Acket heeft er namelijk voor gezorgd dat de Mothers op zondag 23 september in het Amsterdamse Concertgebouw optreden hoera, lees de volgende Hitweek voor nadere bijzonderheden hoera hoera het is echt waar hoera!!!!! "
Google translate: "Despite the boycott of the Amsterdam government Netherland will still be able to experience the most sensational rock band lately in real life Paul Acket has an interest to ensure that the Mothers on Sunday, September 23 at the Amsterdam Concertgebouw occur hurray, read the next Hitweek for further details hooray hooray hooray it's true!!!"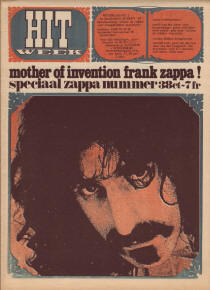 1967 September 22
Vol. 3 No. 1
Frank Zappa is pro provo
Interview by Barend Toet, p 3

Die 2e LP van de Mothers is eh.. afgrijselijk, walgelijk goed!
p 8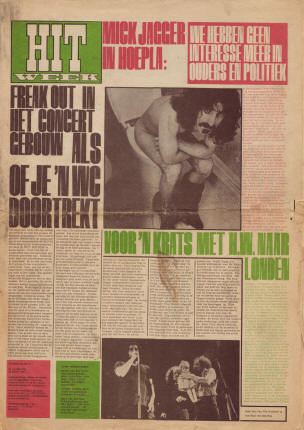 1967 September 29
Vol. 3 No. 2
Freak Out in het Concertgebow als of je'n wc doortrekt
p 1

Jazz zielig voor de buren
By Sjoerd Punter, p 5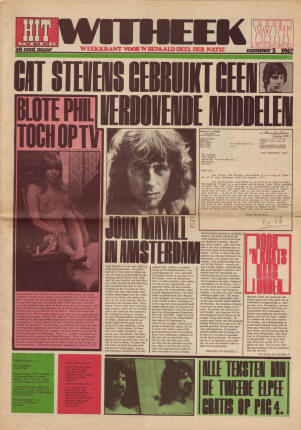 1967 October 6
Vol. 3 No. 3
Alle teksten van de LP Absolutely Free
pp 4-5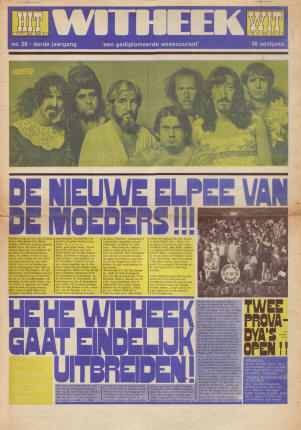 1968 March 29
Vol. 3 No. 28
De nieuwe elpee van de Moeders!!!
p 1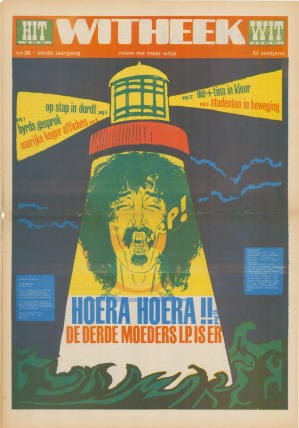 Vol. 3 No. 36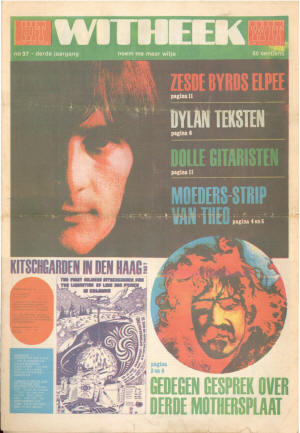 Vol. 3 No. 37
Mischien een minder spektakulaire – maar zeker verre Mothers elpee
By Ellie de Waard, Frits Boer, Jan Donkers & Peter Schröder, pp 3-4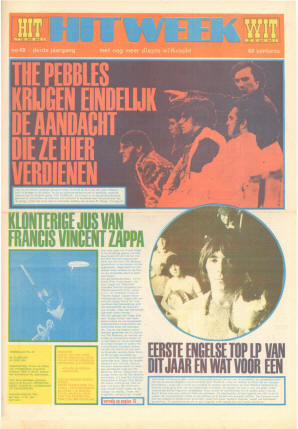 Vol. 3 No. 40
Klonterige jus van Francis Vincent Zappa!!!
By Frits Boer, pp 1, 10
1968 October 25
Vol. 4 No. 6
Deze man is zeer gevaarlijk
pp 1, 3, 6

Brand in Fantasio
p 6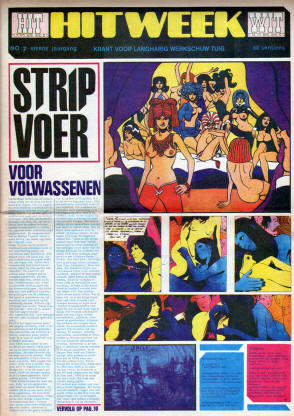 1968 November 1
Vol. 4 No. 7
Zappa
By Frits Boer, p 6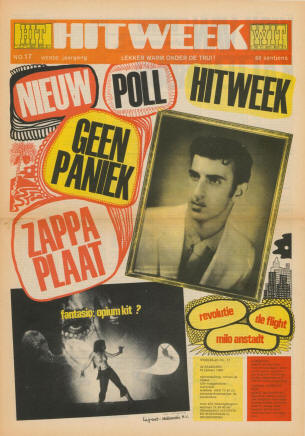 1969 January 10
Vol. 4 No. 17
Avant garde in de muziek: drie stappen verder
pp 9, 11