International Musician And Recording World
In 1974 Ray Hammond founded Cover Publications Ltd in London, UK and launched the monthly magazine
International Musician and Recording World
.
With his partners Richard Desmond and Malcolm Green, Ray then expanded the magazine's coverage to include both American and German editions (...) (
www.hammond.co.uk
)
---
On eventually entering Zappa's room at London's Dorchester Hotel, I noticed that the previous interviewer had just finished, and was embarking on what is often the more interesting part of an interview: when you turn the cassette player off. He was asking Frank if he enjoyed interviews, to which the reply came that he loved them, and then he said, rather more interestingly, that he always tried to slant answers to the needs of the particular publication or radio station or whatever involved. Good news, I thought. (read more)
Source: slime.oofytv.set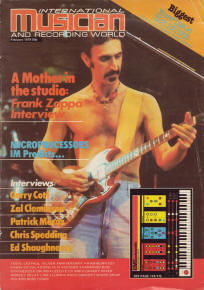 1979 February
Vol. 5 No. 2
A Mother in the studio
By J.C. Costa, pp 125, 127, 129
---
Frank Zappa's prodigious talents as a composer, musician, arranger and satirist often obscure the fact that he's produced all but two of his 23 albums while also finding time to produce Alice Cooper (Pretties For You), Captain Beefheart (Trout Mask Replica) and Grand Funk Railroad (Good Singin' , Good Playin').
By the time the Mothers of Invention, riding the crest of Los Angeles freakdom, were signed to MGM-Verve in November of 1965, Zappa had already acquired considerable experience at his infamous Studio Z in Cucamonga. Asked about his first brush with a "professional" recording studio, his answer is typically caustic and to the point.
"I didn't have any experience as far as being a producer from the real world, I knew that working on the equipment I had in my place in Cucamonga, I could get the job done. I always thought, 'maybe there's a better way. Maybe these guys from the real world – they're all-pro and they know what's happening. They know all about session musicians and all that stuff so maybe we could get a good sound.' I found out that was wrong, totally wrong. The main difference between a regular recording studio and what I had was that some of the things in my studio were better." (read more)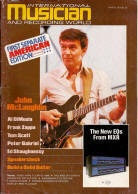 First separate American edition
A Mother in the studio
By J.C. Costa, 3 pp
---
This is the same article from UK Febrary issue.
Source: slime.oofytv.set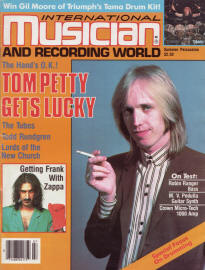 Vol. 7 No. 6
The Art Of Being Frank
By Philip Bashe, pp 52-54, 56
---
In 1970 you disbanded the original Mothers of Invention so that your audience could appreciate what you'd done up to that point. That's been a constant throughout your career, hasn't it – having your work misinterpreted or accepted on a superficial level?
Well, there are certain people who have ears and enough background so that they can hear something and understand what's happening, and there are other people who are baffled by it.
I like to experiment, and most Americans don't like to listen to experimental things. Plus, the climate today is very dance oriented; everybody's been told to jog a lot and be healthy and live forever, and things that fit into that lifestyle are the things that are accepted. That's not what I do.
So I just do what I do for the people who like it. (read more)